Renter Satisfaction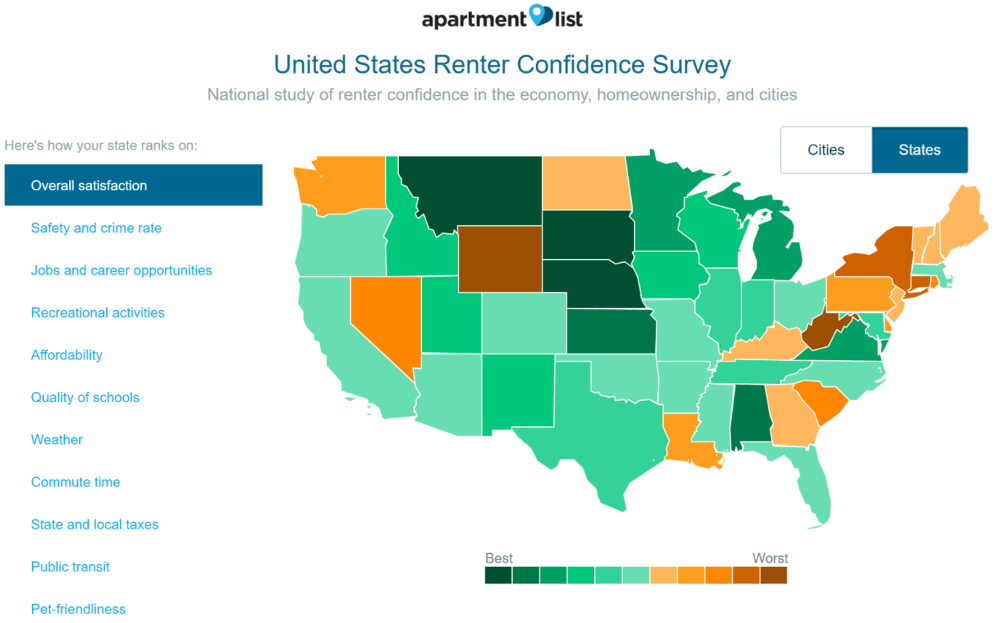 Apartment List has released results from its second annual Apartment List Renter Survey. The study had more than 30,000 respondents nationwide, making it the largest survey focused exclusively on renters. It provides insight into renters' satisfaction with their cities across a range of dimensions, including safety, career opportunities, and affordability.
With the US homeownership rate at a 50-year low, the size of the renter population is at an all-time high. 37% of US households – 110 million Americans – rent, but there are few studies that directly ask renters what is most important to them. Apartment List's study provides insight into what cities must do to meet the needs of renters nationwide.
Key findings from the study include:
Among large cities, Boston, Denver, Charlotte, and San Francisco were the top rated cities for renter satisfaction. Baltimore, Memphis, and Detroit received the lowest ratings.
In general, however, small and mid-sized cities received better ratings: 52% of them received an A- or higher, compared to only 24% of large cities.
California had six cities that received A+ overall scores: Burbank, Chula Vista, Glendale, Irvine, Pasadena, and Santa Monica. Arizona, Colorado, and Virginia each had two cities with A+ ratings.
The strongest predictor of overall satisfaction was local job and career opportunities: Cities that scored an A- or above on that metric were nearly 3.6x as likely to score an A- or above for city satisfaction as those that scored a C or below.
The second most important factor for city satisfaction was satisfaction with safety; however, nationwide, only 52% of renters were either satisfied or very satisfied with their local safety and crime rates.
Affordability continues to be a concern for renters, with 44% of renters saying that they are "very dissatisfied" or "somewhat dissatisfied" with affordability in their city.
Renters in Overland Park, KS; Burbank, CA; and Grand Prairie, TX were most satisfied with their schools, with satisfaction rates of 78% or higher. Detroit, MI; Richmond, CA; and San Francisco, CA were the worst rated cities for schools.
The four factors that had the biggest influence on overall satisfaction were safety, career opportunities, recreation, and affordability. Data from Apartment List's renter survey is available upon request, and contains specific information for all 50 states and more than 120 cities nationwide.