18 Best Neighborhoods in Brooklyn, NY 2021
Renting can be difficult, especially if you're moving to a new place. That said, whether you're a first-time renter or a seasoned expert, understanding the basic rules of renting can help to ensure that you get the best possible value for your new place.
Here are a few dos and don'ts to get you started:
Do get all details about your rental agreement in writing on your lease.
Don't make the mistake of not writing down your apartment wants and needs.
Do your due diligence on relevant details such as location, neighborhood, safety, and entertainment before making a final decision on a new place.
Do learn about the average rent prices in Brooklyn.
Now that you've got a solid foundation on which to begin your apartment search, you're ready to dive into the treacherous waters that are the Brooklyn rental market. However, before you get started, you need to find the right neighborhood. We've got you covered.
Here's a breakdown of the top Brooklyn neighborhoods to consider during your rental search.
Brooklyn Heights
Brownstones and rowhouses dominate this Brooklyn neighborhood and highlight its rich history, predating the Civil War. It has been deemed the "first suburb." It was untouched by rapid development in the sixties. Whether you're a history buff or looking for that elusive small-town feel in the big city, Brooklyn Heights has something to offer.
Rent prices are notoriously high in this neighborhood. However, it's well worth it to live in a gorgeous brownstone within walking distance of shops, outdoor activities, and historic buildings.
Check out the Fulton Ferry Landing to see the spot that helped President Washington smuggle troops across the Hudson. Stop for a bite to eat at the River Cafe, and end your short tour at the famed Brooklyn Promenade for a viewing of the lovely Manhattan skyline. There's always something to do in Brooklyn Heights!
Williamsburg
Williamsburg is a renter's haven, quite literally. Over 82% of all homes in the neighborhood are renter-occupied. This translates to a wide variety of residents spanning multi-family households to single college-student households.
You'll find that your daily commute might be reduced with a move to Williamsburg. The average commute time is just under 35 minutes.
Even more appealing are the views you'll enjoy during your commute. Williamsburg is home to several historic buildings and a raging art scene.
The recent influx of "hipsters" has added to the eclectic feel of the neighborhood. Not to mention the wildly popular nightlife scene that keeps things interesting.
Dumbo
Not named for the adorable Disney character, Dumbo is located (D)own (U)nder the (M)anhattan (B)ridge (O)verpass. Residents believed it would cause developers to avoid the area, but they were mistaken. Today, the neighborhood houses the headquarters for two massive companies, West Elm and Etsy.
However, the area is not all commercial. There's a rich residential neighborhood located in the area. It's home to a collection of artists, tech professionals, and young families.
Luxury lofts that were once industrial buildings have drawn new residents to the area. Rent prices aren't cheap, as the area is so close to Manhattan many renters flock to Dumbo for the short commute it offers. Popular places to visit include:
Downtown Brooklyn
Downtown Brooklyn has a lot to offer any prospective renter. As the heart of the borough, this neighborhood encompasses all that makes Brooklyn great.
If you're looking for a place in Downtown Brooklyn, you'll find many townhouses and condos during your search, not to mention construction vehicles. The area is undergoing extensive renovation and revitalization efforts, including NYU expanding into the area. Expect to see more young engineering students flooding the neighborhood.
Fortunately, there are a plethora of entertainment opportunities to consider while you're ducking cranes overhead. You can check out the Fulton Mall, which is home to 230 stores. Or you might want to drop by the Brooklyn Museum.
Luckily, outdoor dining has been extended to year-round. So, you can safely dine at one of the many restaurants in the neighborhood.
Bushwick
Bushwick is a little haven inside the city with tons of activities to get through in a day. There truly is something for everyone, whether you're a family of five or a young couple enjoying the day.
Not to mention, it's one of the more affordable neighborhoods in Brooklyn. So, you're apt to face some competition whenever a particularly lovely apartment comes up for rent.
Residents enjoy daily adventures through Maria Hernandez Park. It features a playground for children, sports courts, and a dog-friendly section.
If you're a bit peckish after your walk, simply head over to Ichiran for some authentic Japanese ramen. Or, if you favor something lighter, the Bunna Cafe offers delicious vegan and vegetarian Ethiopian cuisine.
Moving to Bushwick means becoming a member of a neighborhood with an artistic streak. Keep your eyes open for new murals that spring up every so often.
Prospect Heights
Prospect Heights is notable as the home of Barclays Center, the Brooklyn Nets' home floor.
Prospect Heights is a very beautiful Brooklyn neighborhood that's brimming with a diverse set of residents and bordered by the famed Atlantic Avenue.
Condos, brownstones, rowhouses, and renovated old buildings are some of the most widely available rental units. Much of this neighborhood has been designated a Historical district.
A fun neighborhood quick fact is that Prospect Heights features many oddly-shaped buildings or protrudes at strange angles due to an updated grid design in the 1800s.
If you're new to the area, plan on stopping by Tom's. This neighborhood stalwart has made a home in residents' hearts by providing free pastries and coffee to those who wait in line to get their hands on the legendary pancakes served here.
By the way, you don't want to miss out on the annual West Indian Day Parade. It's a massive celebration every year!
Boerum Hill
Despite the name, Boerum Hill is anything but boring. People can describe it with the simple phrase "boutiques, good eats, and brownstones." There are many opportunities to shop, grab a good meal, and rest up at one of the famed brownstones in the neighborhood.
If you have a family or are young, this is the perfect place for you! You'll fit right in with the young families that have planted roots here. There's always something fun to do, whether you visit the Invisible Dog Art Center or the NYC Transit Museum.
Cobble Hill
Cobble hill is a bit of an anachronism that calls to mind the ways of the old city. Here, you'll find a distinct small-town vibe with stores that have been under local family ownership for years.
The small Cobble Hill Cinemas boasts a mere five screens. They show indie films, classics, and blockbusters on a given day.
Restaurant Row has made its home in this little neighborhood. However, the upscale scene has helped retain the small-town elegance.
That said, the Homage Skate Shop and the Cobble Hill Park are two required stops for anyone looking for a bit more adventure than you'd find in a 5-course meal.
Park Slope
As a neighborhood famed for its Victorian mansions and historic brownstones, Park Slope has certainly earned its reputation as one of the most desirable areas of Brooklyn. Not surprising, considering it was once one of the richest neighborhoods in the world. To this day, it's one of the most expensive neighborhoods in Brooklyn.
It's a prominent destination for families. The public schools in the area are excellent, public transportation is easily accessible, and it's one of the safest neighborhoods in Brooklyn.
If you like a bit of green, Prospect Park features over 586 acres of green space. So, you can get your fill.
Bay Ridge
Bay Ridge is perfect for an older renter or any renter that can respect Bay Ridge's status as a naturally-occurring retirement community. Families moved to the neighborhood decades ago, and low housing turnover means that while the children have flown the coop, the parents remain.
However, that doesn't mean Bay Ridge lacks fun. Third and Fifth Streets are designated as commercial centers. They're loaded with shopping, eating, and entertainment opportunities.
Be sure to stop by the Narrows Botanical Garden for views of the Verrazzano-Narrows Bridge, the lily pond, zen garden, and rose gardens. You can also grab a bite to eat at one of the authentic ethnic restaurants in the neighborhood.
Red Hook
Red Hook is a waterfront Brooklyn neighborhood with many perks. It's the only neighborhood in the entirety of New York City that enjoys an unimpeded frontal view of the Statue of Liberty.
Additionally, its plethora of parks makes it an excellent rental option for those who love outdoor activities. Red Hook Park features a pool, tons of trees, and multiple sports fields for football, soccer, and softball.
Art lovers rejoice! The annual summer Red Hook Arts Festival is the perfect place to showcase your creations or simply enjoy an evening of good art and fun.
Windsor Terrace
This tiny residential neighborhood is another with a distinct-small town feel. A revered destination for families, Windsor Terrace houses multi-generational homes and residents that have been around for decades.
The neighborhood is becoming more diverse and fighting against the effects of gentrification. However, for now, it remains a quiet little neighborhood. It has low traffic volume, mom-and-pop shops, and low housing-turnover.
If you're looking for a neighborhood that won't make you feel lost in such a big city, then Windsor Terrace is your best bet.
Carroll Gardens
Carroll Gardens is a coveted location within Brooklyn. It's close to Manhattan and Downtown Brooklyn, so you'll likely reduce your commute time. There are tons of popular shops, including Yesterday's News for vintage goods and Article& for women's clothing.
Additionally, an influx of French expats has led to new French restaurants, cafes, and shops in the area. After enjoying an excellent coffee, you can take a brisk walk through Carroll Park. It features a small play area for children, basketball courts, and a baseball field.
As a whole, Carroll Gardens is characterized by gorgeous architecture spanning centuries and a high cost of living.
Greenwood Heights
Greenwood Heights is a flourishing neighborhood known for its diversity and recent renovations that have breathed new life into the area. Pass the day in the quiet Green-Wood cemetery with its rolling hills and green as far as the eye can see.
For renters, you'll find interior gutted renovations that leave homes with historic architecture and modern interiors. You'll be moving to a neighborhood filled with artists and young people.
Clinton Hill
Renters, be forewarned. While rent prices are higher in Clinton Hill, the historic mansions, apartment buildings, brownstones, and brick row houses are certainly worth it.
This area's charm is accentuated by its architectural variety. That has helped to drive a diverse group to the neighborhood. "The Hill" is also home to Pratt Institute, so you'll find plenty of college students in the neighborhood.
Gowanus
Gowanus is a neighborhood going through gentrification and rapidly changing. However, it boasts a strong population of artists and creatives from multiple backgrounds.
Recently, new co-working spaces have popped up in Gowanus. This has occurred alongside the opening of many new restaurants, art galleries, and bars. There's no shortage of things to do.
Stop by Claro and enjoy authentic Mexican cuisine outdoors and keeping warm by their massive oven. You can also enjoy a meal at Dinosaur Bar-Be-Que, a delicious barbecue restaurant with roots in Central New York. It's a great place to live, especially for young professionals.
Crown Heights
Crown Heights is divided into two major areas, Crown Heights North and South. However, it's the whole neighborhood that has the most to offer prospective residents. It's a relatively safe area, as crime has trended down since the early 1990s.
It has even garnered a reputation as a family-friendly neighborhood with the Brooklyn Children's Museum, a popular attraction in the area. Prospect Park is another popular destination. It borders the neighborhood on its western edge.
Bed-Stuy
Notorious as the birthplace of one of the most famous musicians in the nineties rap scene, Bed-Stuy is still an artist haven. Though the Notorious B.I.G. has long since passed, residents and tourists flock to his mural.
Besides famous musicians, Bed-Stuy is known for its Victorian architecture and diverse population, including hipsters, creative professionals, and attorneys. It's a relatively safe and affordable option for any prospective renter.
Final Thoughts
Renting in Brooklyn isn't for the faint of heart. However, it's certainly worth it considering all that the borough, and New York City as a whole, have to offer.
That said, it's best to navigate this rental market with a guide, one that can help to streamline your apartment search while ensuring that you walk away from it with the apartment of your dreams. Apartment List is here to help!
Ready to start apartment hunting in Brooklyn? Just get started with our quiz.
Share this Article
DAVINA WARD
Davina Ward is a contributing author at Apartment List and freelance writer specializing in real estate and digital marketing. She received her B.
Read More
Limited Time
Win a year of free rent!
Enter for a chance to win by February 28, 2023 | Learn more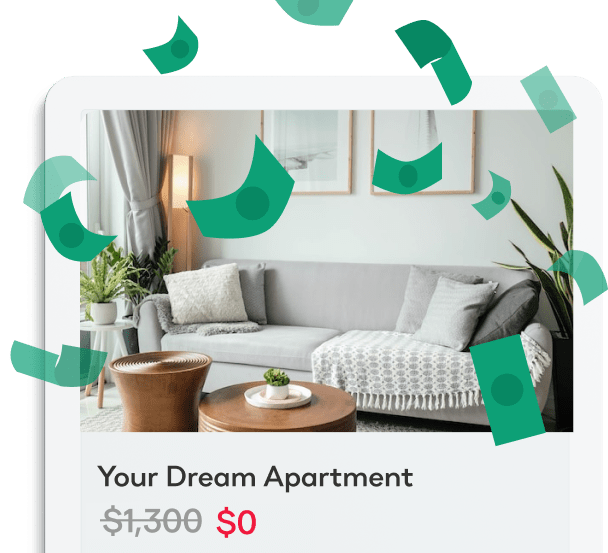 Get started by taking our personalized quiz
Subscribe to our Newsletter
Stay up to date on the latest apartment hunting tips.
Next Up
Average Rent in Brooklyn & Rent Price Trends
13 Best Neighborhoods to Live in New York, NY 2023
Cost of Living in New York, NY 2023