Cost of Living in Miami, FL 2023
Thinking about moving to Miami but don't know how much you can spend? Here's what to expect from the cost of living in Miami and how to plan for your move.
Miami, Florida, is a paradise for those who dream of living within close proximity to a beach without ever leaving the comforts of the city.
New residents are drawn to Magic City's warm weather, coastal beaches, and bustle. There truly is no place like it.
Considering making the move to Miami? If so, it's essential to consider the city's cost of living and whether it's a good match for your budget.
Here's everything you need to know about the cost of living in Miami.
Miami Housing Costs
Miami is known for its famous skyline featuring several high-rises overlooking the city's sandy beaches. The Miami metropolitan area includes both suburban and urban living options for renters. So, whether you're looking for a lovely loft or an apartment with a view, Miami is the place to find it.
Renting in Miami is generally less affordable than in other similar metropolitan areas, according to our Miami rent report. The median rent for a one-bedroom apartment is $1,622 and two-bedroom apartment in Miami sits at $2,150, which is 8.7% year-over-year in the last year and 4.0% above the national average.
Not to mention, some neighborhoods in the Miami metro area have even higher two-bedroom rent rates, including Miami Beach.
Now might be a good time to get into the Miami rental market. As the nation rebounds from the economic impact of the COVID-19 pandemic, rent prices remain lower than they were last year.
Miami Transportation
Miami is known for its high rate of vehicle ownership, with 91.3% of households having access to at least one vehicle. MIT's Living Wage Calculator puts a single adult's average annual yearly expenses for transportation at $5,509. That's about $426 monthly.
However, the city's public transportation system is robust. Those who loathe driving or prefer public transportation options will love traversing the city via bus and train systems.
The popular Metromover system is completely free. It operates in Downtown Miami and Brickell, stopping at major locations such as American Airlines Arena and the Bayside Marketplace and offering efficient transportation for anyone traveling within the downtown area.
For those traveling throughout the major Miami metropolitan area, the transportation options are just as formidable. The Metrorail and Metrobus service this area for the low fare of $2.25 for a one-way trip.
Miami Food Costs
Miami is known as a multicultural hub with many distinct cultures. There are many benefits to its diversity.
One of those is the wide variety of foods from different cultures that are available in the area. You might find Caribbean Jerk Chicken on one street corner and traditional Spanish paella on another.
The availability of delectable dishes means that Miami residents will have to keep a diligent eye on their budget line item for food. Eating out can be costly.
According to data from Numbeo, a meal for two at a mid-range restaurant costs $100 on average, excluding a tip. A meal at an inexpensive restaurant costs $20 on average.
If you're on a budget, you may be able to keep your food costs down to $3,351 a year or $279.25 a month by not eating out and cooking all your meals at home. However, for a two-adult, two-child family of four, that cost increases to $9,856 a year or $821.33 monthly.
Miami Healthcare Costs
Healthcare costs are a significant concern for many individuals, regardless of where you live.
Unfortunately, healthcare insurance costs can put a dent in your bank account, meaning it's essential to choose an affordable option that works best for you. Luckily, you can use Florida's Health Choices website to find an affordable health insurance plan that'll keep you covered in Miami.
Healthcare costs are a budget line item that'll depend on your personal circumstances and they can be difficult to estimate accurately for everyone.
An individual adult will spend around $2,871 annually on medical expenses, including healthcare insurance, medication, and related costs. The healthcare costs for a four-person family increase to $9,758 annually.
If you're moving from out-of-state, you'll have to report your move to become eligible for a special enrollment period. Be sure to do this prior to your move to avoid a lapse in coverage!
Miami Utilities
Florida is known for its hot and humid weather, meaning utility costs will have a big impact on your monthly budget.
You'll likely find yourself running a substantially high electric bill as a result of cooling your home. You may even find yourself doing laundry more often. The humid weather means more beach visits and sweatier runs.
Luckily, the average monthly utility bill for Miami residents is substantially lower than the US average of $240 a month. Miami residents typically spend $128.11 monthly for basic utilities including water, gas, and electricity.
Unfortunately, these costs don't include garbage collection, which you may have to cover. Generally, Miami residential property owners must cover the $484 garbage collection fee. However, they may include the cost in your rent payment, so be sure to ask about the cost upfront!
Additionally, you'll want to consider the cost of WiFi and cellular coverage in your utility budget line item. These costs are typically fixed and can fall under the utility umbrella. Your cellular bill will vary depending on your provider's plan. However, WiFi costs $65.89 on average for 60 Mbps in Miami (though you'll likely want faster service).
It's always best to overestimate when estimating your utility costs. Having more than enough set aside is better than scrambling to cover costs.
Fitness and Entertainment
Miami is known for its fitness and entertainment options, which isn't surprising. Miami's plethora of dining options, beaches, and two major league sports teams make it a premier destination for those seeking fun in any form.
Whether you're swimming at the beach or catching a game, there's always something to do. That said, fitness and entertainment can take a toll on your budget. Here's a breakdown of Miami's most popular fitness and entertainment costs.
Fitness
Fitness is big in Miami, which is why there are tons of options for those looking to get and stay fit. The average cost of a gym membership in Miami is $48.90 for a single adult.
However, there are cheaper options. You might choose to invest in a decent pair of running shoes and take running up as a hobby. Miami has tons of great running locations, so it's easy to lace up and enjoy the views.
Visit a Park
Of course, Miami lives up to its reputation as a coastal city with tons of beach options. However, its parks are a bit underrated.
The Maurice A. Ferré Park located in Downtown Miami features 30 acres of green space. Perfect for evening walks or fun jogs, this park features palm tree-lined walkways and eye-catching monuments. Its close proximity to American Airlines Arena, two museums, and Bayside Marketplace makes it a popular destination for Miami residents.
If you're looking for a bit more space, Tropical Park might be just what you're looking for. This park features facilities for many sports, including basketball, softball, volleyball, boxing, and more. Not to mention, its 275 acres provide plenty of room for walks, jogs, or biking.
The best thing about visiting a park? It's a fun and free adventure!
Head to a Sports Game
Miami plays host to multiple major league sports teams. If you're a fan of football or basketball, then you'll love the close proximity to the home of the Miami Dolphins and the Miami Heat.
According to data from SeatGeek, the average ticket cost for a Miami Heat game is $93. A Miami Dolphins ticket will set you back around $92.
If you're more of a hockey fan, head just north of Downtown Miami to catch a Florida Panthers game at BB&T Center. Tickets to the ice hockey arena cost a reasonable $50 on average.
Other Expenses to Consider in Miami
Successfully making the move to Miami means that you'll have to do your due diligence on the true cost of living in the Magic City.
Though the cost of living covers the fundamental expenses of living in Miami, there are always some hidden costs that don't make it on most budgets. It's essential to prepare for these costs before relocating. Here are a few additional expenses to consider in Miami.
Amenity Costs: If you choose to rent within a high-rise apartment building, you'll likely face higher rent prices due to the amenities that these places offer. Whether it's a fully stocked gym, an indoor pool, rooftop lounge, or in-unit laundry — these nice-to-haves can drive your rent up.
Taxes: The good news is that the state of Florida doesn't collect income taxes. That said, the combined state and county sales tax rate sits at 7%.
Flood Insurance: One drawback of living in a coastal city is that severe weather is a possibility. You may want to invest in private flood insurance to cover your belongings in the event of storm damage.
What Salary Do I Need to Live in Miami?
Living comfortably means different things to different people. However, it's essential to understand its basic definition when determining the salary you need to earn in Miami.
Generally, living comfortably means that you earn enough money to cover your living expenses, have a bit of "fun money," and can save some money every month.
As your biggest expense will likely be housing, it's essential to start with the cost of rent to determine the amount you need to earn in Miami.
A comfortable salary roughly translates to three times your monthly rent or rent that should amount to around 30% of your monthly income or less, whichever suits you best.
For a Miami resident renting a one-bedroom apartment at the median rate of $1,622, a comfortable pre-tax monthly income would sit around $5,407 or $64,880 annually.
Final Thoughts
Miami is certainly a dream destination for many people. However, if you're looking to turn that dream into a reality, it'll take some hard budgeting and planning. If you're willing to put in the work, you can move on to the fun part — apartment hunting.
Take our quiz to help you get started on your apartment search to find your dream neighborhood!
FAQs: Cost of Living in Miami
How expensive is an apartment in Miami?
A one-bedroom apartment in Miami costs $1,662. A two-bedroom apartment in Miami costs $2,150.
What is the cheapest rent in Miami?
The cheapest apartment in Miami is a one-bedroom apartment and costs $1,662 a month.
How expensive is it to live in Miami?
Living in Miami is relatively expensive. In Miami, rent averages $1,622 for a one-bedroom apartment. Transportation costs in Miami amount to $5,509 a year. Food costs $3,351 a year on average for a single resident of Miami.
How far is Fort Lauderdale from Miami?
Miami is 30 miles away from Ft Lauderdale. It takes 52 minutes to get to Ft Lauderdale from Miami by car, 3 hours by bike, and 10 hours by foot.
How far is Orlando from Miami?
Miami is 239 miles away from Orlando. It takes 3 hours and 51 minutes to get to Orlando from Miami by car, 22 hours by bike, and 78 hours by foot.
How far is Tampa from Miami?
Miami is 282 miles away from Tampa. It takes 4 hours and 11 minutes to get to Tampa from Miami by car, 23 hours by bike, and 84 hours by foot.
How far is Key West from Miami?
Miami is 166 miles away from Key West. It takes 7 hours and 3 minutes to get to Key West from Miami by car, 25 hours by bike, and 69 hours by foot.
How far is Hollywood FL from Miami?
Miami is 24 miles away from Hollywood FL. It takes 36 minutes to get to Hollywood FL from Miami by car, 2 hours by bike, and 7 hours by foot.
What is the population of Miami?
According to the U.S. Census Bureau, the population of Miami is 439,890. It is the second most populated city in the state of Florida.
Is Ft Lauderdale cheaper than Miami?
Miami is somewhat more expensive than Ft Lauderdale. The median rent for a one-bedroom apartment in Ft Lauderdale sits at $1,609, while the median rent for a one-bedroom apartment in Miami sits at $1,662.
Is Orlando cheaper than Miami?
Orlando is significantly cheaper than Miami. The median rent for a one-bedroom apartment in Orlando sits at $1,379, while the median rent for a one-bedroom apartment in Miami sits at $1,662.
What is a good salary in Miami?
According to the U.S. Census Bureau, the median household income in Miami is $3,988.33 per month or $47,860 annually. However, you should aim to spend no more than 30% of your income on rent. To comfortably afford a one-bedroom apartment of $1,662, you should earn at least $66,480 or $5,540 a month.
Share this Article
DAVINA WARD
Davina Ward is a contributing author at Apartment List and freelance writer specializing in real estate and digital marketing. She received her B.
Read More
CONTENT ASSOCIATE
Tristian is a Content Marketing Associate at Apartment List, working to create and manage high quality content that is relevant to today's renters. Tristian has a BA in Marketing and European Management from the University of San Diego and EM Strasbourg Business School.
Read More
Limited Time
Win a year of free rent!
Enter for a chance to win by February 28, 2023 | Learn more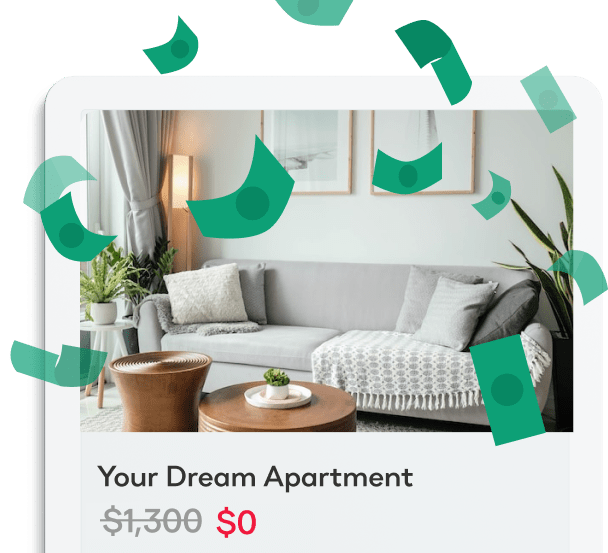 Get started by taking our personalized quiz
Subscribe to our Newsletter
Stay up to date on the latest apartment hunting tips.
Next Up
15 Best Neighborhoods in Miami, FL
Average Rent in Miami & Rent Price Trends
22 Things to Know Before Moving to Miami, FL