13 Things to Know Before Moving to Las Vegas, NV
Before packing your bags and making Sin City home, there are some things you need to know about heading to Las Vegas. The city isn't just a hub for lively casinos and lavish nightclubs. There's so much more to do and see.
Here's what to know before moving to Las Vegas.
1. What's It Like Living in Las Vegas?
Las Vegas is growing and currently has a population of 644,664. Las Vegas is the 28th largest city and the state of Nevada is currently ranked 6th in the United States for its economic outlook. Las Vegas is home to 89.2% US citizens with 20.2% of the city-born outside of the country. Aside from English, the growing Hispanic population speaks Spanish.
Las Vegas was founded in 1905 as a railroad town linking Los Angeles to Salt Lake City. Farming was popular until 1931 when the Hoover Dam started construction. That brought an influx of workers. Theaters and casinos were soon built through the city, largely by the Mafia. The electricity of the dam ultimately fueled the casinos and hotels along The Strip. When Howard Hughes arrived in 1966, he deterred the mob influence. He turned the city into a more family-friendly tourist center.
There's always something unique, odd, or fascinating happening around Las Vegas. The city sees over 300 weddings every day among its chapels and drive-through wedding venues. Casinos are one of the major draws to Las Vegas. The MGM Grand's Bronze Lion is among the largest bronze statues in the country. And despite its reputation as a gambling town, Las Vegas is rated among the top in the nation for fantastic food. It's a haven for foodies.
Today, Las Vegas is still known for its dazzling casinos, Broadway-caliber stage shows, tourism, and all-night fun. Las Vegas has a slightly higher unemployment rate than other cities. However, booming industries including tourism, hospitality, and gaming. It's also a growing tech hub with companies like Zappos calling Downtown Las Vegas home.
2. Cost of Living in Las Vegas
The cost of living in Las Vegas is more affordable than nearby cities like Scottsdale or California metro areas. You can still get tons of fabulous amenities and all-night fun without paying a bundle in rate. If you want to lower your housing costs, a nearby Las Vegas suburb will offer more room and amenities at a lower price point.
According to Payscale, the cost of living in Las Vegas is 3% higher and housing is also 8% higher than the national average.
Here's an idea of how much things cost when moving to Las Vegas, as reported by Payscale:
Energy bill: $151.23
Loaf of bread: $3.46
Doctor's visit: $113.70
$2.96 for a gallon of gas
Recently, the average rent in Las Vegas dropped to $941 for a one-bedroom apartment and $1,216 for a two-bedroom apartment. You'll need an income of at least $33,876 a year or $17.37 an hour to live comfortably in a one-bedroom apartment.
For a two-bedroom apartment, you'll need to earn at least $36,480 a year. That comes out to $18.71 an hour.
The median income in Las Vegas is $56,354, as reported by the Census Bureau in 2019. By comparison, the median income is $62,843 in the rest of Nevada.
Keep in mind that those figures are not the same thing as the basic living wage. Living above the poverty threshold in Las Vegas requires $13.77 an hour for a full-time employed single individual. You'll need to secure a bigger income to take advantage of the nightlife, vacations, and restaurants.
3. You'll Get Generous Tax Breaks in Nevada
There's no income, corporate, franchise, or inventory tax in Nevada. Even though sales tax is high, roughly 33% of the state sales tax is paid through the gaming industry. You'll end up with more money in your pocket, especially if you take advantage of free and cheap things to do around Las Vegas.
4. Who's Moving to Las Vegas?
According to our recent migration report, Californians from Los Angeles, Riverside, and San Francisco want to move to Las Vegas. On the other hand, renters in Las Vegas are considering moving to Los Angeles or staying in their home state. People in Phoenix and Reno have also been searching for Las Vegas apartments.
Learn about how to move to a new state.
5. Locals Don't Flock to The Strip
Unlike the rest of Las Vegas, The Strip is expensive. There are few reasonable self-parking options.
However, moving to Las Vegas means everyone you've ever met will suddenly want to visit you in your new home. Save your trips to The Strip for when you want to mesmerize your out-of-town guests with dazzling casinos and shows like Cirque du Soleil.
6. The NFL is Setting Up Shop in Vegas
Tourists get so caught up in the bright lights of "the entertainment capital of the world." But not as many people have noticed the growing sports scene in Las Vegas. In 2020, the Raiders will kick off Vegas' first NFL season. They'll stand alongside the city's other pro sports teams.
The Knights are a recent expansion team in the NHL. They went to the Stanley Cup in their first season. Needless to say, Vegas residents are now crazed Knights fans.
You can also check out the Las Vegas Aces WNBA Team, Triple-A Baseball games, and NBA Summer League every July.
7. Downtown Las Vegas is Full of History
The Strip and Downtown Las Vegas are two very different areas. The latter is full of rich history. The newly revitalized area of Downtown Vegas features updated amenities and an influx of newcomers looking to launch their careers.
Also known as "Old Las Vegas," Downtown was once the hottest spot for gambling in the 1950s. The illustrious nightlife scene later moved down to The Strip as mega-sized luxury casinos took shape. Tap into the magic of Downtown's history and see its modern charm with a stroll through the Fremont Street Experience.
8. Las Vegas Boasts Unique Culture Centers
Living in Las Vegas comes with its own arts and culture scene that competes with the best cities in the world. And it's not just the stage shows you'll find at Casinos. Las Vegas also offers festivals, concerts, and lively community events.
Locals can also take their pick of galleries like the Chamber Gallery, Charleston Heights Arts Gallery, Grand Gallery, and others. The city even hosts artists opportunities for public art projects and its own Las Vegas Arts Commission.
9. Hanging Out in a Shipping Container is a Local Favorite
When it comes to living in Las Vegas, hanging out on The Strip isn't where it's at. Instead, locals gather at a network of shipping containers to find everything they need.
The open-air-shopping center at Downtown Container Park is a favorite gathering spot to eat, drink, play and shop. Located on the southeast corner of Fremont and Seventh street, the park's 30 shipping containers and 41 cubes sprawl across 19,000 square feet.
10. You Can Explore the Outdoors (Even in Summer)
There's no way around it: Las Vegas is seriously hot, with summer temperatures soaring upwards past 100 degrees. Locals plan their day accordingly and take advantage of relatively cool mornings and evenings any chance they get.
During cooler months, hike at the nearby Red Rock Canyon or try horseback riding with Cowboy Trail Rides.
If you're a golfer, book an early tee time on one of the city's courses. Try out the Desert Pines Golf Club, Downtowner, or Las Vegas National Golf Course.
11. Locals Do It All 24/7
New York City may hold the title as the "City that Never Sleeps," but Las Vegas isn't far behind. In a city with around-the-clock gambling and entertainment, Vegas residents need access to 24/7 amenities. Locals grocery shop, work out, and get errands done at all hours of the day and night.
With so many residents working odd hours for hospitality jobs, this helps keep the work-life balance in check. And if you don't have time to plan a wedding, you can do that 24 hours a day at the famous Little White Chapel drive-through.
Learn about where locals live by reading this Las Vegas neighborhood guide.
12. The Las Vegas Job Market Is Growing
Like most cities, Las Vegas took a hit during the pandemic. But with tourism roaring back, gaming and food industries are regaining status as some of the top industries.
The city is also home to a growing tech and start-up hub. Zappos' CEO Tony Hsieh has paved the way, setting up shop in the revitalized Downtown.
13. Las Vegas Has a Metro System
The Las Vegas metro area may feature a jam-packed Strip and Downtown. It sprawls across several neighborhoods and suburbs. This makes having a car pretty much mandatory. If you really want to ditch the car, you can work, live, and play in areas like Downtown Las Vegas or The Strip.
Final Thoughts
Ready to make your next move to Las Vegas? Register for Apartment List to find your dream neighborhood.
Share this Article
AUTHOR
Justin is a Content Manager and contributing author at Apartment List, helping people navigate the world of renting. Justin previously spent his time earning his BBA in Marketing from Boise State University.
Read More
AUTHOR
Susan Finch is a freelance writer and content manager focusing on local experiences, travel, and anything relating to really good food and craft brews. Her work has appeared in travel guidebooks and national magazines and newspapers.
Read More
Limited Time
Win a year of free rent!
Enter for a chance to win by February 28, 2023 | Learn more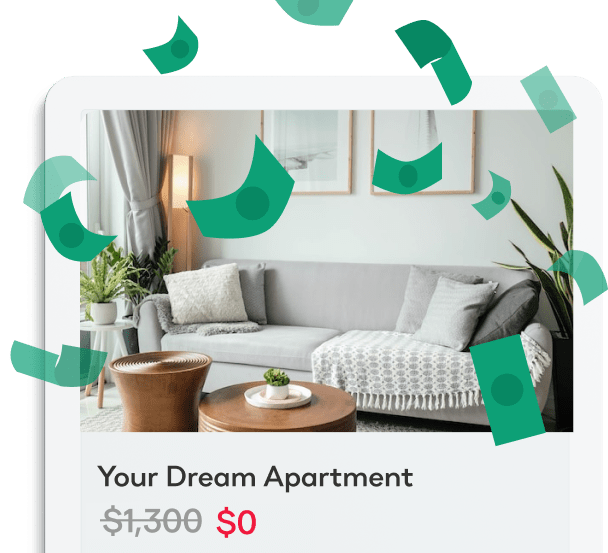 Get started by taking our personalized quiz
Subscribe to our Newsletter
Stay up to date on the latest apartment hunting tips.
Next Up
Cost of Living in Las Vegas, NV 2023
10 Best Neighborhoods in Las Vegas
Average Rent in Las Vegas & Rent Price Trends