First Time Apartment Renter's Guide: 20 Step Checklist
There's a lot to remember as a first time renter. Use our apartment rental guide, checklist, and tips to know exactly what you'll need when it's time to move in.
Whether you are moving out of your parents' house or leaving your dorm room days behind, becoming a first-time apartment renter is an exciting rite of passage. Of course, figuring out what to look for when renting an apartment for the first time comes with new tasks and responsibilities, as well as the freedom to pick and choose the perfect place.
Even the most ambitious and organized first-time apartment renter can get overwhelmed with the process. Apartment hunting, applications, fees, budgeting, packing, and all the logistics of moving come with their headaches, but it is well worth it.
To make the transition as smooth as possible, we put together a first time renter checklist of everything you need to know about how to rent your first apartment for a successful move.
1. Determine Your Budget
It's common for first-time renters to overestimate how much they can spend on rent and other necessities. According to the U.S. Department of Housing and Urban Development, you shouldn't spend more than 30% of your gross income on renting an apartment. However, because this rule doesn't always work in expensive cities like New York, Boston, or San Francisco, you should do your best to keep your housing expenses to 30% or under. Teaming up with a roommate or creating an income-generating side hustle can help offset your living expenses when getting your first apartment.
A rent calculator can help give you a better idea of what you can and can't afford. Plug in your location, the desired number of bedrooms, and your monthly gross income, and let the rent calculator do the rest. We'll provide you with a recommended rent figure and apartment options in your area that fits your budget. Take the time to learn more about what you should include on your first apartment budgeting checklist.
2. Choose Your Neighborhood
Narrowing down your dream neighborhood can feel like one of the more daunting things to do before getting an apartment. But, some of the best advice for first-time renters comes from narrowing down your choices and considering the following:
How close am I to work?
Do I prefer driving, public transportation, or walking?
Do I need quiet or want to live in the middle of it all?
Is my dream location more expensive than surrounding neighborhoods?
How far do I want to be from museums, restaurants, and attractions?
3. Decide if You Need a Roommate
Another top first-time renter tip - if rent soars above the 30% recommended rule, consider looking for a roommate to split the rental costs. But before you tap into your personal network or Craigslist, consider the pros and cons of having a roommate and whether or not you're willing to make compromises along the way as a shared apartment renter.
Once you've decided that a roommate is suitable, it's time to start finding a roommate. When renting a property for the first time with another person, consider what makes a compatible roommate, what kind of lifestyle you want, and what you can't tolerate. Here are some ideas:
Are parties allowed, and if so, how big and how late?
Do you need to live with someone excessively clean?
Do you care if a roommate comes with a pet? And therefore, will you need a pet-friendly apartment?
How long can guests stay, and how often?
Whose name will the utilities be in, and how will you collect payment from the other?
Who will buy the furniture, and who will take it if someone moves out?
4. Consider the Parking Situation
Some neighborhoods like Downtown Seattle or Boston rarely require personal vehicles, as they offer plenty of public transportation options. Suburban areas, on the other hand, require reliable parking, impacting what kind of apartment complex you choose.
Gauge your comfort level and the type of car you have when looking for an apartment. Consider whether or not you need a covered space, assigned parking, or if on-street parking is readily available and safe. It's also important to look at your car insurance policy. You may discover your rates could go up or down depending on your long-term parking situation.
5. Think about the Amenities
Always prioritize amenities and location as a first-time renter. In some areas, apartment complexes have options like swimming pools, on-site fitness centers, rooftop terraces, on-site laundry, and more.
Outdoor amenities can be essential for a first-time apartment. If your apartment community has private outdoor spaces with access to equipment like grills and lawn games, you can host some spectacular gatherings with your friends. Plus, you won't have to worry about spending money on those items yourself.
6. Consider Which Floor You Want to Live on
The floor you choose in an apartment complex comes with its own pros and cons.
For example, a bottom-floor apartment may prove cheaper than others, with less legwork to get to the main door and amenities. You also don't need to worry about a dog or children running around and disturbing neighborhoods below you. However, the views are usually the worst in the building.
There's no right or wrong answer regarding which apartment floor you should live on, as it depends on your preference. But, if you're new to renting, you can narrow down your choices by checking out this round-up of pros and cons on which is the best apartment floor to live on.
7. Know the Best Time to Look for an Apartment
If you have some flexibility on when you can move, there are certain times of the year when apartments are less competitive and less expensive. Rent prices are subject to change based on seasonality, and you can save on rent by being strategic about your search.
Generally, getting an apartment for the first time in the winter will be the least competitive time to look for an apartment and when you can score the best deals. This rule can even apply in warm-weather cities when families are reluctant to move their kids during the school year, college students are busy with exams, and people are busy with the holidays.
Learn more about renter tips, including the best time to rent an apartment.
8. Give Yourself Time to Search
New renters may ask themselves about the process of moving into an apartment, like, "How long does it take to find an apartment?" It might take a few months to find the right fit, so start your search early. If there's no time to spare, you can use these useful tips for first time renters on how to find an apartment fast.
If you are planning a move to a new city and don't have time to make a trip to apartment hunt in person, worry not! Nowadays, renting an apartment sight unseen is completely possible thanks to virtual and video tours.
Also, finding an apartment with a pet can make things a little more challenging. Learn the ins and outs of finding a pet-friendly apartment in our apartment rental guide.
9. Ask Questions During Your Tours
Before signing a lease agreement for your starter apartment, ask as many questions as possible. Start with our apartment rental checklist of questions to ask when renting an apartment. Don't forget to think about the noise levels when you tour and ask about how hot it gets there in summer, and how cold it is in winter. Be specific regarding your concerns, and if anything needs to be fixed, ask before signing the lease.
How much does rent cost? (feel free to ask about security deposits, application fees, and any other financial obligations)
Am I responsible for covering utilities?
How is parking handled?
What amenities will I have access to?
10. Know How to Spot Rental Scams
Knowing how to rent an apartment on a budget is challenging, often complicated by too-good-to-be-true listings. Knowing how to identify rental scams comes with experience. A first time apartment renter will be more susceptible to others, and over 5.2 million U.S. renters have fallen victim to rental scams.
Not sure what to look out for?
Use these tips on how to spot and avoid rental scams.
11. Be Open with Your Roommate or Significant Other
Moving in with a roommate or your significant other? Don't assume you're on the same page about your living situation, and keep the lines of communication open, including expectations and budget. Get started with these tips for apartment hunting with a significant other.
Ideally, you want to operate under a "two yeses or no" premise. If you don't agree on a major decision, you should consider other options until you can find something you both like to avoid confrontation and resentment.
Apply this strategy to things like furnishings, rent prices, neighborhood choices, and much more throughout your apartment rental journey.
12. Budget for All Upfront Costs
A first time apartment renter doesn't always realize the extent of the upfront costs involved. You'll need to budget for a security deposit, first and last months' rent, and an apartment application fee. If you're moving in with a pet, you may have to pay a pet deposit or fee, as well as first and last months' pet rent. Make sure to study your lease to determine how you get your security deposit back and any conditions for reimbursements.
Here are a few additional upfront costs to keep an eye out for:
Hiring movers
Buying a renters insurance policy
Purchasing new furniture
Apartment application fee
Pet rent and fees
Study your lease regarding the terms to get your security deposit back, as well as any conditions for reimbursements. If you need more help figuring out how to rent your first apartment, you can learn more about hidden rental costs and how much an apartment really costs.
13. RememberFuture Expenses
Upfront expenses are only a portion of your apartment rental costs. Other costs may include utilities, parking, repairs, and new furniture.
Utility costs can vary depending on your location and the season. For example,h ere's how much the average utility bill costs for renters.
It's common for renters to pay for gas, electricity, internet, and cable. You should also factor in any subscriptions, the cost of transportation or gas, food, gym memberships, and other ongoing expenses. Get our checklist and tips for how to budget for your first apartment.
14. Gather Your Paperwork
Most landlords and property management require specific information from tenants and the rental application. This information may include your credit score, rental history, proof of income (pay stubs and/or W-2), past landlords and personal references, and your social security number. However, you don't need to provide your social security number if you are completing a credit check. Learn more about the forms needed to rent an apartment.
Below are some of the most commonly required documents for renting an apartment:
Proof of Income (pay stubs, bank statements, tax returns, job offer letter, etc.)
Completed apartment application
Identification Documents (drivers license, state-issued ID, passport, social security card, etc.)
Proof of vehicle insurance and registration
15. Prepare an Apartment Rental Checklist
Once all of the legwork and paperwork is completed, it's time to think about furnishing your apartment.
As a first time apartment renter, there are endless details to remember from linens to baking trays. Here's a first apartment checklist to make moving day a breeze. Use this as your guiding light as you look for all of your apartment essentials.
16. Purchase Renters Insurance
Renters insurance protects renters living in an apartment, condo, or home and typically covers unexpected personal property damage from specific, pre-approved emergencies and mishaps, including:
Fire
Wind and hail
Smoke damage
Lightning
Vandalism
Theft
Falling objects
Water damage
Hail
Explosions
Volcanoes
Snow and ice collapse
Wind damage
Mold (in some circumstances)
17. Read and Understand Your Lease Agreement
When moving into your new apartment, few renters are dying to dig deep into their lease agreements. But, they're hugely important and can make or break your experience. Study your lease to set yourself up for a smooth transition.
Look for essential aspects of your lease agreement as a first time apartment renter, including:
Lease length and monthly rent
Security deposit details
Pet policy
Utility costs
Noise
18. Furnish Your Apartment on a Budget
Moving out on your own as a first time apartment renter requires an investment in new furniture and essential household items. However, you don't have to break the bank to furnish your apartment on a budget.
Check out our guide on how to buy cheap furniture for your apartment.
For online shopping, try Wayfair and Overstock for big-ticket items. On the other hand, you can try Target and IKEA for in-person browsing. The Dollar Store is also an inexpensive stop for hand towels, cleaners, and sponges. Remember to personalize your new apartment with plenty of decor and favorite artwork. Here's a resource for where to buy cheap art for an apartment and outfit your new home in style.
19. Organize Your Move
Now that you finally signed the lease and are ready to outfit your apartment, it's time for the big move. It's no secret that moving can be stressful, especially for a first time apartment renter. However, a hassle-free move is possible, and prioritizing a smooth transition is key. Here's how to do it:
Discuss the earliest move-in date possible with your landlord. Enlist the help of your family and friends to start packing, or hire professional movers. You can purchase moving boxes at your local hardware store or save money by checking out places to get free moving boxes.
Pack your belongings.
Set up utilities.
Change your mailing address with USPS and set up mail forwarding.
20. Deep Clean Your New Apartment Before You Move in
If possible, schedule a deep clean of your apartment before you move in. A cleaning company can take care of everything for you, although they will charge a premium for the service. You can also do it yourself with this ultimate apartment cleaning checklist.
Final Thoughts
If you need help finding the perfect spot as a first time apartment renter, we are here to help. Get started with the quiz at the top of this page.
First Time Apartment Renter FAQs
How Does Renting an Apartment Work?
As a first-time apartment renter, you'll need to:
Determine your budget
Choose your neighborhood
Decide if you need a roommate
Consider the parking situation
Think about amenities
Consider which floor you want to live on
Know the best time to look for an apartment
Give yourself time to search
Ask questions during your tours
Know how to spot rental scams
Be open with your roommate or significant other
Budget for all upfront costs
Remember future expenses
Gather your paperwork
Prepare an apartment rental checklist
Purchase renters insurance
Read and understand your lease agreement
Furnish your apartment on a budget
Organize your move
Deep clean your new apartment before you move in
How Much Should I Spend on Rent?
As a general rule of thumb, a household should spend no more than 30% of its monthly income on rent. Use our rent calculator to determine how much you can afford to spend on rent.
How Do I Prepare My Apartment Application?
Most landlords may ask for your credit score, rental history, proof of income, references, and social security number to conduct a credit check. Give the landlord a call to ensure you have all the proper documents.
Do I Have to Pay for Utilities?
Depending on the apartment complex, tenants may be responsible for certain utilities. These utilities should be outlined in your lease agreement.
When touring an apartment, make sure to ask your future landlord or property managers which utilities they'll be covering and which ones you'll have to pay for.
How Much Money Should You Save Before Moving into Your First Apartment?
The 30% rule states that no more than 30% of your net income should go to rent each month. Using this rule, you should make at least $3,000 net each month to afford an apartment that is $1,000 per month.
At What Age Can You Rent an Apartment?
Across the country, the standard is that you must be 18 years old to rent an apartment. Landlords may have the right to refuse to rent to anyone under 18 years old.
What Do Landlords Ask For When Renting?
Landlords will typically ask for the following items when renting:
Proof of Income (pay stubs, bank statements, tax returns, job offer letter, etc.)
Completed apartment application
Identification Documents (driver's license, state-issued ID, passport, social security card, etc.)
Proof of vehicle insurance and registration
Do Apartments Check Credit?
Most landlords will conduct a credit check during the rental application process. A credit score of 650 or higher is typically ideal for a first time apartment renter.
Share this Article
CONTENT ASSOCIATE
Tristian is a Content Marketing Associate at Apartment List, working to create and manage high quality content that is relevant to today's renters. Tristian has a BA in Marketing and European Management from the University of San Diego and EM Strasbourg Business School.
Read More
AUTHOR
Susan Finch is a freelance writer and content manager focusing on local experiences, travel, and anything relating to really good food and craft brews. Her work has appeared in travel guidebooks and national magazines and newspapers.
Read More
Limited Time
Win a year of free rent!
Enter for a chance to win by February 28, 2023 | Learn more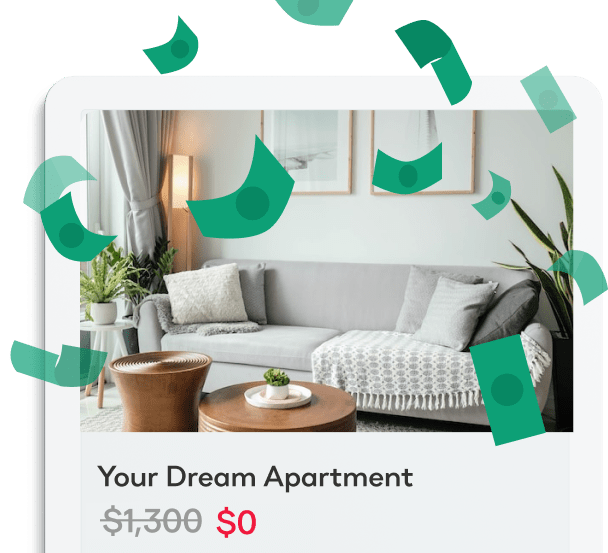 Get started by taking our personalized quiz
Subscribe to our Newsletter
Stay up to date on the latest apartment hunting tips.
Next Up
25+ Questions to Ask When Renting an Apartment
11 Questions to Ask Potential Roommates
Month-to-Month Leases: A Guide + How to Find Them