Month-to-Month Leases: A Guide + How to Find Them
Month-to-month leases are an agreement between a landlord and tenant that renews at the end of every rental period. Continue to learn more.
A month-to-month lease is a rental contract featuring an option to renew after every rent period. The terms are generally more flexible and are ideal for renters who often move around for their job or want to try out a new city. Although leasing month-to-month is often a short-term solution, the arrangement can go on for years if it works for both the renter and the landlord.
Use this guide to learn more about month-to-month leasing, and if it's a right fit for your rental journey.
How Do Month-to-Month Leases Work?
Month-to-month rentals automatically renew unless the landlord or renter gives notice to end the arrangement. You can terminate a monthly lease for any reason with the agreed-upon notice, which is usually 30, 60, or 90 days in advance.
Pros and Cons of a Month-to-Month Lease
Before you sign, make sure you understand the pros and cons of a month-to-month lease.
Pros of a Month-to-Month Lease
A monthly lease is a great option for many renters, depending on what your current needs are.
Added Rental Flexibility- A monthly rental agreement keeps your life more flexible, and you'll avoid penalties for breaking a traditional lease early.
Limited Penalties- There are few, if any, penalties and fines when you terminate a monthly lease and move on.
Easy to Convert to a Full-time Lease- Once you prove you're a quality, reliable tenant, it's easy to convert to a full-time lease.
Cons of a Month-to-Month Lease
Despite all the pros, a few downsides to a one-month lease exist.
Expensive Rent Prices- Renting on a month-to-month basis is more expensive than signing a traditional lease.
Risk of Lease Termination- Flexible lease terms leave things unpredictable, and your landlord could eliminate your contract anytime.
Rent Instability- When you sign a short-term lease, you may find yourself dealing with rental instability and periods of bouncing around.
Is a Month-to-Month Lease Right For You?
In some cases, renting on a month-to-month basis works well. Flexible lease terms are ideal if you're about to experience a significant life change in the next few months, like a career move, relocating to a new area, expecting a child, or getting married.
Renters who purchase a home or undergo renovations also require a flexible lease. Or you may want to buy a new construction home with no set move-in date that requires a short-term place to live.
How to Find Month-to-Month Rental Apartments Near You
While you can use ApartmentList's filters to find a monthly option, you won't always find landlords advertising a flexible lease. Instead, you can look for clues, like a three to six-month lease that indicates the property is open to short-term options.
It also goes a long way to establish a good relationship with your future landlord. Explain why you need a monthly rental and come with pay stubs and bank statements that show you can afford higher payments.
Final Thoughts
Now that we've answered "what is a month-to-month lease" is, you can decide if the flexibility is worth the trade-offs of higher prices and potential rent instability. If you're already renting, you can speak to your current landlord about changing from a long-term to a short-term lease or use ApartmentList's filters to find the perfect rental for you.
Month-to-Month Lease FAQs
Do apartments do month-to-month leases?
Month-to-month leases vary depending on the apartment complex. You can usually ask for a monthly lease when short-term contracts are offered.
Are month-to-month apartment rentals expensive?
You'll pay a premium for flexibility. Month-to-month leases are typically significantly more expensive than a 12-month lease.
Can landlords raise the rent on month-to-month leases?
Yes, a landlord can raise your rent to reflect market rates with a 30-day notice if you are on a month-to-month lease.
Does a month-to-month lease need to be signed every month?
No, month-to-month leases automatically renew every month until one party legally terminates the lease.
Share this Article
AUTHOR
Justin is a Content Manager and contributing author at Apartment List, helping people navigate the world of renting. Justin previously spent his time earning his BBA in Marketing from Boise State University.
Read More
AUTHOR
Susan Finch is a freelance writer and content manager focusing on local experiences, travel, and anything relating to really good food and craft brews. Her work has appeared in travel guidebooks and national magazines and newspapers.
Read More
Limited Time
Win a year of free rent!
Enter for a chance to win by February 28, 2023 | Learn more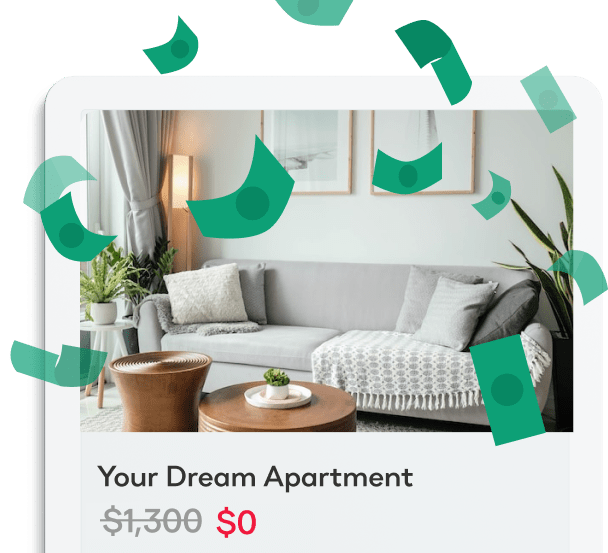 Get started by taking our personalized quiz
Subscribe to our Newsletter
Stay up to date on the latest apartment hunting tips.
Next Up
How to Find Furnished Short Term Rentals + Pros & Cons
Short-Term Lease or Long-Term Lease: Which is Right for You?
Move In Special Apartments: How Do You Find One?