How to Rent an Apartment [2023 Rental Application Guide]
Learning how to rent an apartment can be overwhelming. Continue reading to learn the basics of renting an apartment and renter tips to help you get approved.
You've scoured area rental listings, found the perfect place, and are ready to take an apartment tour. But before you can sign a lease agreement and move in, you'll also need to complete the apartment application process. It's part of the requirements to rent an apartment and something everyone does.
Although it's not complicated, all the steps involved can feel overwhelming. Don't worry. We've rounded up all the info you need for renting an apartment, including how to apply for an apartment, the documents required for the application process, and tips to help ensure you'll get approved.
1. Complete the Rental Application
How do apartment applications work, and how long does it take for an apartment to approve you? Well, once you apply for an apartment, the waiting time for approval is typically 24 to 72 hours.
Here is a list of some of the required information needed when applying for an apartment:
Name
Social security number (for background checks)
Proof of ID
Current address
Phone number
Email address
Income verification
Previous addresses
Emergency contacts
Pets (if applicable)
2. Pay the Application Fee
Another one of the steps to rent an apartment includes applicants paying a non-refundable application fee of about $30 to $50. The landlord charges these fees to cover the costs of screening renters, sometimes including background and credit checks.
3. Prepare for Credit and Background Checks
The next part of the process includes credit and background checks.
Credit checks are usually part of the application fee and require your authorization. The landlord also conducts a background check to assess your criminal history and see how dependable you are.
4. Send Over Proof of Income
Proof of income is critical when applying for an apartment, as it shows that you have a reliable source of income to pay rent. Bring two to three pay stubs, tax returns, and two to three months' worth of bank statements to include in your application to speed up the process of renting an apartment.
Getting an apartment application approval requires proof of income in the form of:
Pay Stubs
Tax Returns
Bank Statements
Income Letter From an Employer
Court-Ordered Payments
Social Security Documents
Unemployment Documents
Pension
Severance Statement
Disability Insurance
Worker's Compensation
W-2 Income Statement
1099 Form
Annuity Statement
Interest and Dividend Income
Bonus and Incentive Payment Statement
5. Determine if You Need a Co-Signer
If your income (or credit score) is not high enough to secure the apartment, consider asking a trusted person to be your co-signer. A
co-signer or guarantor
is someone who signs the lease with you and is legally required to pay your rent if you fail to do so. They are common for those with poor credit or unstable income.
6. Provide Rental References
Prospective landlords want references from previous landlords to verify your rental history and reliability as a prospective tenant when getting an apartment.
They want to ensure your responsibility. To confirm, your prospective landlord might also call your previous landlord to ask about your reliability and ability to pay rent on time.
7. Consider Including Personal References
If you are new to the apartment renting process and don't have previous rental history, bring personal references from a boss or superior that speak to your trustworthiness and reliability. Make the process easier with these rental reference letters as an example.
8. Sign the Lease
Once approved, it's time to sign the lease. Make sure you read through everything and understand each detail. After all, it's a legally binding document!
9. Provide Your Security Deposit
A security deposit is a sum that a new tenant pays to a landlord or property management company before moving in. Security deposits provide landlords insurance for tenant damage beyond normal wear and tear. It's common for the amount to be between 1-3 months' rent.
10. Move Into Your New Apartment
While moving into your new apartment may seem overwhelming, it's an exciting time in your life. Many of the
first apartment checklist
items you likely already have handy. If you don't, buying brand new is not your only option.
7 Tips to Get Approved for an Apartment
There are a few things to know about the rental process that could impact approval. For example, most landlords are looking for applicants who pay rent on time, are excellent communicators, have steady incomes, are good neighbors, and treat the property as their own.
Keeping these factors in mind, here are seven tips to help move the renting process along:
Speed up the rental application process by providing copies of your credit report and rental reference letters from your employer and previous landlords
The property management company won't proceed with apartment applications if individuals decline the application fee
Typically, ~650 is the minimum credit score needed when applying for an apartment
Before landlords run your background check during the apartment rental process, disclose if there's anything noteworthy, like an old arrest
If you don't have pay stubs because you just got a new job, provide an offer letter from your new employer when applying for apartments
Call ahead to ask which payment method landlords prefer between cash, checks, or credit cards
If you're on a budget, some move-in specials will waive the application fee to entice more renters to apply
Final Thoughts
Now that you have a better idea of the renting and application process, you'll be approved in no time! But if you're having trouble finding the right place for you, we can help. Find your next apartment on Apartment List today!
Share this Article
AUTHOR
Angelina is a Marketing Specialist at Apartment List where she writes content on rental lifestyle. Angelina previously worked as a Russian and German language specialist at Facebook and Google, and has a BA in Applied Linguistics from UCLA.
Read More
EMILY KHO
Emily is a professionally trained writer who covers a wide range of topics but specializes in business and hospitality content. With over a decade of professional writing experience in the hospitality industry, Emily comes from a strong background in the field backed with a BS from the world-renowned William F.
Read More
Limited Time
Win a year of free rent!
Enter for a chance to win by February 28, 2023 | Learn more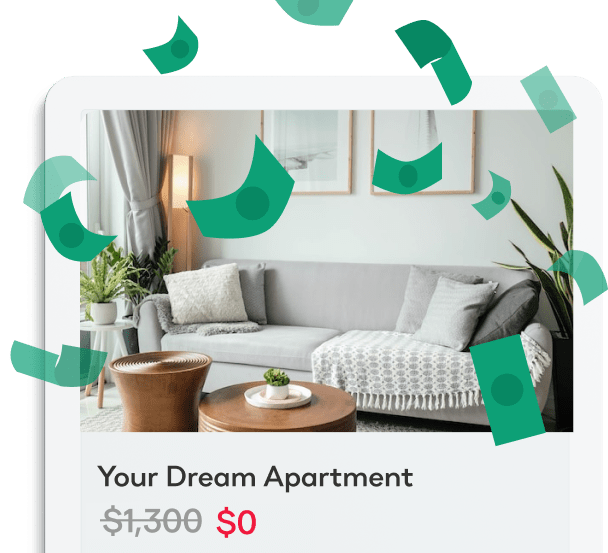 Get started by taking our personalized quiz
Subscribe to our Newsletter
Stay up to date on the latest apartment hunting tips.
Next Up
First Apartment Checklist: Essentials for your New Apartment
25+ Questions to Ask When Renting an Apartment
How to Find an Apartment [2023 Guide]