Renting a Home vs. Apartment - Which is Right for Me?
When it comes to renting, traditional apartments dominate the conversation. However, many renters have a hard time choosing between renting a traditional apartment and renting a home.
Yes, a home. An entire house. Though it may seem daunting for some, the extra space and privacy are enough to attract plenty of renters.
But which option is right for you? This guide will teach you everything you need to know about the difference between renting a home and renting an apartment and help you choose the right option for you.
Let's dive in!
What's the Difference Between Renting a Home vs an Apartment?
The difference between renting a home is pretty self-explanatory.
Renting a home means renting a traditional house — the entire house. You'll have tons of square footage to work with, privacy, and access to outdoor amenities such as a back or front yard.
It's a great option for a renter looking for more space, family living, or a home with outdoor space for their pets.
Renting an apartment is a little more complicated, as apartments can be located within an apartment building, be a part of a multi-unit house, renovated warehouses, or a connected unit within an apartment community.
However the fundamentals of renting an apartment remain the same.
You'll be renting a unit that will have a fraction of the square footage of a home, the walls of your apartment will be connected to that of your neighbors, and you'll have to share communal spaces and amenities with other residents of the apartment community.
The Pros and Cons of Renting a Home
Renting a home comes with plenty of advantages and disadvantages. The trouble is that the advantages and disadvantages almost balance out, so making a final decision is just that much harder.
For that reason, it's so important to consider the pros and cons of renting a home to determine whether it's the right choice for you.
Here's a look at the pros and cons of renting a home.
Pros of Renting a Home
Privacy: A home provides renters with more privacy than they would find in a traditional apartment unit with shared walls. Because homes are detached, you don't have to worry too much about disturbing your neighbors with your hobbies, working out, odd schedule or much of anything else.
More Room: Whether you want a dedicated home office or an art studio, a house offers all the additional space you need to make your dream home a reality. If your lease includes access to areas such as a basement, garage, or attic you'll have even more space to work with.
Opportunity for Rent-to-own: Rent-to-own agreements allow you to maximize your investment with a home. In these agreements, you agree to rent the home for a specific term with the option to purchase the home once that rental period is up. It's a win-win for a renter.
Better for Pets: If you have or want to adopt a medium or large breed dog, renting a home is your best bet when it comes to providing your furry friend with an outdoor space to roam and play.
Backyard Access: Not all homes have backyards, but most do. If your lease allows for backyard access, the outdoor space can serve as a place to lounge, host guests, grill, or play with your pet. It's a versatile and highly-coveted amenity.
Off-Street Parking: Many rental homes offer a driveway or garage for off-street parking. You can keep your car protected from thieves, accidents, and the elements by parking it off-street.
Working with a Private Landlord: You may find that a private landlord allows for more flexible lease options, less stringent credit score or background check requirements, and a more friendly relationship with your landlord.
Cons of Renting a Home
More Responsibility: Do you like shoveling snow or mowing the lawn? If not, renting a home may not be for you. Your lease agreement may require you to manage the responsibilities of home ownership, which may include clearing driveways, raking leaves, and lawn maintenance year round. These chores are usually taken care of in an apartment setting.
More Expensive Initially: Furnishing a home is much more expensive than furnishing an apartment, as there is more space to fill. Unless you're a minimalist in the extreme, you may find yourself purchasing more furniture and decor to make the space feel more cozy, rather than bare.
Higher Utility Costs: Utility costs in a home can be much more expensive than those in an apartment. It requires much more electricity to heat or cool an entire home, unless you plan on sticking to one room. Moreover, you may have to invest in a better WiFi package or WiFi extenders to avoid poor coverage areas in your home.
Typically Further Away from Metro Areas: It's rare to find homes for rent within metro areas, as they are usually located in suburban areas. If you're lucky enough to find one, be prepared for exorbitant rent rates that are on par with luxury apartment units.
Limited Availability: There are fewer homes on the market than apartment units.You'll face more competition and may have to spend longer on your search.
Working with a Private Landlord: You may find that renting from a private landlord means having to deal with their inexperience. Maintenance requests may go unanswered, your landlord may be too hands-on or hands-off the property, and you may find yourself having to remind your landlord about the legality of their practices (worst-case scenario).
The Pros and Cons of Renting an Apartment
Like renting a home, renting an apartment has its pros and cons.
Whether renting an apartment is the right move for you as a renter comes down to your preferences and personal circumstances.
To help make your decision easier, here's a breakdown of the pros and cons of renting an apartment.
Pros of Renting an Apartment
Convenient: Renting an apartment is generally easier than renting a home, as apartments are more widely available, smaller, and easier to furnish. Plus many apartments handle utilities, so you'll only be responsible for a single housing bill every month.
Amenities: Renting an apartment, especially a luxury apartment, can mean that you'll have access to amenities that you wouldn't find elsewhere. In-ground pools, on-site gym centers, and rooftop lounge access are all amenities you can find in an apartment building or community.
Less Responsibility: There's no lawn to mow, leaves to rake, or snow to shovel when you live in an apartment. Following the terms of your lease agreement and being a good neighbor are your only responsibilities when renting an apartment.
Typically Centrally Located: Most apartment units are found in the heart of metro areas, so you'll generally be within walking distance to grocery stores, laundromats, public transit stops, and tons of entertainment options.
Renting from a Property Management Company: Property management companies are the experts when it comes to providing high-quality tenant experiences. You'll benefit from a variety of rental payment options, more efficient maintenance, and a generally more seamless rental experience.
Cons of Renting an Apartment
Restrictions: Renting an apartment can come with many restrictions, including pet policies (breed, size, number, etc), decor regulations, and even visitor limits.
Parking: Many apartment buildings may lack off-street parking. If there is off-street parking, it may be very competitive and costly to reserve a spot.
Lack of Privacy: When you share walls, floors, and ceilings with other residents, it can be challenging to feel a sense of privacy. Moreover, simple things like the volume of your television or music and how early or late you're up can cause stress. You don't want to get a noise complaint.
Usually Less Space: Unless you're renting a luxury apartment unit, you're not going to get the same square footage in an apartment that you would in a house. That said, you may be able to match the number of bedrooms in an apartment and house, as apartments can have up to 3 or more bedrooms.
How to Find Apartments to Rent Near You
Finding an apartment to rent near you is simple, or at least it will be if you follow the tips below!
Start your Search Early
The rental market can be tough to navigate, even for the most experienced renter. It's best to give yourself ample time to find a unit that meets your needs, so you can avoid the stress of a time crunch.
However, life happens. Sometimes you have to find an apartment in a week or you may need to find an apartment out of state.
If your apartment hunting situation is unique, be sure to research tips to help you maximize the time you do have to find an apartment.
What Should I Look For In An Apartment?
Apartments are as varied as they come, from breezy, industrial lofts to cozy efficiency studios. This variety allows renters to choose a unit that best suits them and their preferences.
When you're hunting for an apartment, you can be as wishful as you want. In fact, it's important to know exactly what you want in your next apartment, including price, size, amenities, location, and any other relevant detail.
Create a list of your must-have apartment features to narrow down your options and guide your search.
Search for Listings Online
Once you know what you want in an apartment, you can start your search!
Use a rental listing platform, like Apartment List, to help streamline your search and get you into your dream apartment.
Apartment List lets you lead the search by matching you with units that meet your preferences. Our rental concierge brings the best apartment matches directly to you.
You'll avoid spending hours scouring through units, and speed through to the fun part — touring potential units.
Set Up Apartment Tours
Apartment tours allow prospective renters to view a unit and ask questions about renting the unit.
So, while you're checking outlets, windows, and appliances, don't forget to ask your prospective landlord or property manager the right questions.
Start with the basic questions:
How much is rent and the security deposit?
Is this unit pet-friendly? Are there any restrictions?
How are utilities handled? Am I responsible for paying for them?
Can you describe the application process?
If you need some additional inspiration, check out this list of questions to ask during your apartment tour.
Apply and Sign Your Lease
Speed is the name of the game here.
If you see something you love, apply ASAP. That same unit may not be available tomorrow since luxury apartments are in high demand.
Luckily, the apartment application process is relatively simple and generally takes less than a week. Your contribution to the process shouldn't take more than an hour, as you'll simply have to fill out a rental application.
Your landlord or property manager will use the information you provide in your application to perform the tenant screening process and determine whether you fit the criteria to rent the unit.
If you are approved, you'll be asked to sign a lease agreement to make the arrangement official.
This is when you should slow down a bit, and take time to read through the lease agreement in its totality.
Never sign a lease agreement until you have read it! You'll avoid many rental headaches with this strategy, as you can clarify terms to ensure that you understand all that's expected of you as a tenant.
Once you've signed your lease agreement and paid all fees — congrats! You've officially landed an apartment!
When's the Best Time to Rent An Apartment?
The best time to rent an apartment depends on what you're looking for.
If you want to save on your apartment, try renting during the winter months when rent prices and competition are generally lower. As a bonus, you shouldn't have too much trouble finding a moving company, as there aren't a ton of people moving during the winter.
If you want to choose from a wider selection of apartments, you'll have to rent during the summer months when the moving season reaches its peak.
Overall, seasonality in the rental industry is pretty predictable, so it's not hard to tweak your strategy to get the most out of your apartment hunt.
Where to Find Homes to Rent
Don't worry! It's a lot easier to find homes to rent than you would think. There are many online platforms available to help you find a home.
The list below details some of the best online platforms to help you find a home to rent.
Apartment List: Though the name may be misleading, Apartment List is a rental platform that matches renters with the homes that best fit their needs whether it's a home or an apartment. You can find homes for rent on our site.
Rentals.com: This platform offers rental from all over, you'll be able to find homes for rent.
Zillow: Zillow is big in the home buying market, but they also have a selection of homes for rent.
FB Marketplace: The social media platform made a major move when it launched Marketplace. Now, you'll find homes for rent listed among other rentals near you.
Craigslist: As the quintessential classifieds site, Craigslist offers users the chance to find whatever their heart desires, be it a blender or a home for rent. Just be careful to avoid rental fraud.
Which is Better for Me, Renting a Home or Apartment?
Whether a home or an apartment is the better choice for you depends on your needs. On a fundamental level:
Renting a home is a great option for those looking for extra space, suburban living, and for those who plan to purchase a home in the near future.
Renting an apartment is a great option for those who want to live within the heart of a metropolitan area, don't want too many responsibilities when renting, and want to choose from a variety of amenities.
Regardless of the option you choose, it's crucial to start with your preferences and work from there. Take our quiz to help you get started on your apartment hunt and land your dream home.
Share this Article
DAVINA WARD
Davina Ward is a contributing author at Apartment List and freelance writer specializing in real estate and digital marketing. She received her B.
Read More
Limited Time
Win a year of free rent!
Enter for a chance to win by February 28, 2023 | Learn more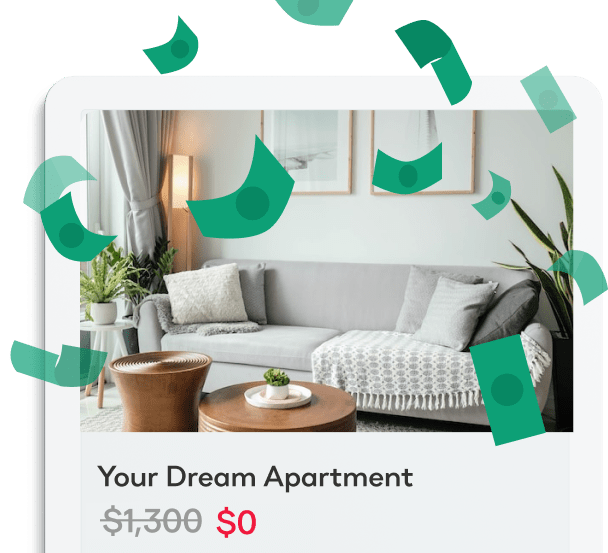 Get started by taking our personalized quiz
Subscribe to our Newsletter
Stay up to date on the latest apartment hunting tips.
Next Up
How to Move to Another State: Guide + Checklist
How Much Does an Apartment Cost?
How to Budget for Your First Apartment (Checklist and Tips)