How Does Rent-to-Own Work? An Overview + Tips for 2023
A rent-to-own home follows a contract that allows renters to purchase a property after completing their rental agreement.
A rent-to-own home follows a rental agreement that provides renters with the opportunity to purchase the property after fulfilling their rental contract.
But how does rent-to-own work? In this article, we'll get into the details of renting to own properties, including how it works, different types of contracts, the pros and cons, and some insider tips.
Let's get started!
What are Rent-to-Own Contracts?
For renters looking to purchase a property, rent-to-own contracts allow you to apply the rent you pay on a monthly basis towards the final purchasing price of your new home.
In some rent-to-own contracts, renters may have to pay 1% to 5% of the home's value as an option fee. But, this fee is not always required. The other option is if a renter is not interested in purchasing the home at the end of the lease, which means they can lose the extra funds paid out to the homeowner from the contract.
How Does Rent-to-Own Work?
Although the specific details of rent-to-own contracts vary, the process is generally the same.
The renter agrees to lease terms following a specified duration, typically 1 to 3 years. They'll then pay the non-refundable 1% to 5% of the home value, or the option fee, upfront. This fee is for the down payment on the home.
Once the renter inhabits the home, they can continue contributing toward the down payment of the house by paying slightly higher monthly rent. The price of the home is locked in with the rent-to-own contract, so the renter can purchase the home once the rental lease expires.
Types of Rent-to-Own Contracts
While rent-to-own contracts follow the same principles, there are two primary types of these contracts you may run into; a lease-option or a lease-purchase agreement.
Lease-Option Agreement
If a renter must pay the option fee upon signing the contract, this is a lease-option agreement. One of the benefits of this type of rent-to-own arrangement is that the renter typically has more negotiating power regarding the amount of the option fee.
Once the contract begins, renters can pay rent credits or additional payments throughout the lease. The rent credits are used towards the down payment of purchasing the home. At the lease contract expiration, renters can negotiate with sellers on the final purchase price.
Lease-Purchase Agreement
If the renter pays a portion of the rent each month toward a home's down payment, this is known as a lease-purchase agreement. The primary difference between a lease-purchase and a lease-option agreement is that the latter gives you the option not to purchase the home at the end of the lease.
When to Choose Lease-Option vs. Lease-Purchase
If you're trying to decide between a lease option or a lease-purchase agreement, you'll want to pay close attention to the current market.
Paying for an appraisal at the end of the lease may be better if home prices are relatively stagnant. Alternatively, if housing prices continue to rise, locking in a rate ahead of time is probably the better option.
Rent-to-Own Pros and Cons
Like most significant real estate decisions, rent-to-own contracts have pros and cons. Looking closely at both sides before deciding what is right for you is essential.
Pros of Rent-to-Own Agreements
One of the major benefits of entering a rent-to-own contract is the ability to save up for a down payment while building credit and home equity simultaneously. Here are some of the other significant pros of renting to own.
No Property Taxes: Landlords are responsible for property taxes while you are renting.
Control Over Your Home: Once you move in as a renter, the home is essentially yours.
Grow Your Equity: Appreciation happens quicker in rent-to-own contracts.
Move-In Quicker: Renters can move in within one to two weeks after signing the documentation.
Not a Credit-Dependent Decision: Landlords establish the creditworthiness of renters through the lease duration.
The Investment: When you rent, you are putting money in your landlord's pocket, but with renting to own, your money is going toward purchasing your future home.
Cons of Rent-to-Own Agreements
In addition to the long list of benefits of rent-to-own contracts, there are also some downsides. Here are some of the most common to consider.
After Purchase Property Taxes: Renters will take on property taxes before eligibility for tax breaks.
Maintenance Responsibilities: Renters may be responsible for maintenance costs during their lease.
Losing Home Value: The home's market value may drop after the rental period.
Penalties for Breaking a Contract: Some contracts may have financial penalties.
Non-Refundable Option Fee: You will lose your option fee if you decide not to purchase at the end of your lease.
Higher Interest Rates: There may not be low-interest rates in rent-to-own contracts.
Higher Monthly Payments: Standard rentals will have lower monthly payments because additional funds aren't going toward a down payment.
5+ Rent-to-Own Tips
Before you lock yourself into a rent-to-own contract, here are a few insider tips you should follow.
1. Choose the Best Rent-to-Own Terms for Your Situation
Determine whether a lease purchase or lease option suits your current financial situation. Taking the time to assess if your finances can support your rental decision can only help you make a more confident decision.
2. Consult with a Real Estate Attorney
If you're unsure about the terms of a contract, you should always consult with a professional. A real estate attorney can help lead you in the right direction with your new contract.
3. Review the Contract Carefully
Much like you would any legally binding document, you need to make sure you review the contract thoroughly before signing.
4. Double Check the Fine Print
Reviewing the contract includes double-checking the fine print to understand the details of essential factors such as rent payments and the option fee.
5. Schedule a Home Inspection
Scheduling a home inspection will ensure that you conduct proper research on the home before agreeing to a selling price.
6. Research the Seller
Lastly, always do your due diligence by looking into the seller and their home. Always verify their contract information and the address of the listed property.
Final Thoughts
Since rent-to-own contracts help build credit and equity while contributing funds toward a down payment on a home, this often tends to be an excellent option for those having a difficult time securing a mortgage.
Look! Now, you no longer have to ask, how does rent-to-own work? Instead, you can begin researching available contracts in your area that fit your rental budget.
Rent-to-Own FAQs
How Is Renting to Own Different Than Buying a House?
When you purchase a home, you must cover the entire down payment upfront and the monthly mortgage prices. However, renting to own differs because first, you rent the house, and once the lease expires, you have the option of purchasing.
Is Rent-to-Own a Good Idea?
Deciding if renting to own is a good idea depends on various factors, including the current real estate market and your financial situation.
Is It Cheaper to Rent or Own?
Although the monthly payments can be lower to rent, overall, the costs are higher to own. Still, purchasing a home means growing equity.
How Much Money Do You Have to Put Down on a Rent-to-Own Home?
The option fee, which serves as the down payment of a home in a rent-to-own contract, is not always required but is typically between 1% and 5% of the home value.
How Do You Calculate Rent-to-Own Payments?
To calculate rent-to-own payments, review and understand the rates of the option fee, monthly rent, and home purchase price.
Does Rent-to-Own Build Credit?
Your credit score is unaffected by rent-to-own contracts as these are not reported to credit bureaus. However, there are ways of reporting monthly rent payments to help improve your credit score throughout your leasing period.
Is Rent-To-Own Legal Everywhere?
Rent-to-own contracts are legal, but it's essential to check out the legality of the details of your agreement based on local laws.
Can You Back Out of a Rent-to-Own Contract?
A renter may be able to back out of a rent-to-own contract, depending on the terms. In some situations, a financial penalty for breaking the contract may be due.
Share this Article
EMILY KHO
Emily is a professionally trained writer who covers a wide range of topics but specializes in business and hospitality content. With over a decade of professional writing experience in the hospitality industry, Emily comes from a strong background in the field backed with a BS from the world-renowned William F.
Read More
CONTENT ASSOCIATE
Tristian is a Content Marketing Associate at Apartment List, working to create and manage high quality content that is relevant to today's renters. Tristian has a BA in Marketing and European Management from the University of San Diego and EM Strasbourg Business School.
Read More
Limited Time
Win a year of free rent!
Enter for a chance to win by February 28, 2023 | Learn more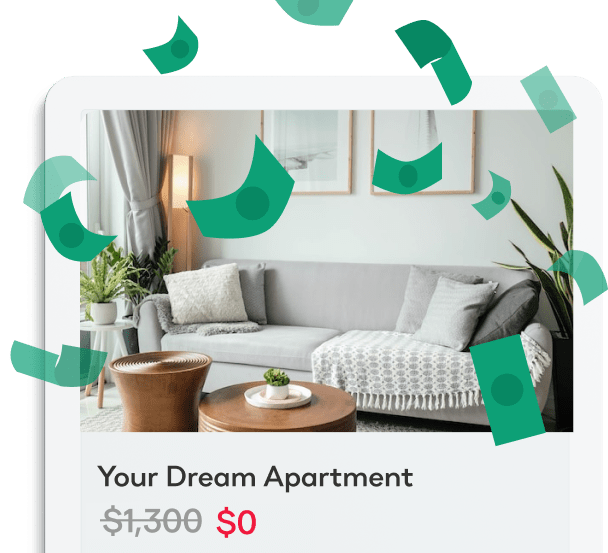 Get started by taking our personalized quiz
Subscribe to our Newsletter
Stay up to date on the latest apartment hunting tips.
Next Up
25+ Questions to Ask When Renting an Apartment
How to Get an Apartment with Bad Credit (7 Tips)
Rental Scams: 10 Warning Signs + Protection Tips for 2023