252

Apartments for rent in Wheeling, IL with Move-in Specials

Move-in specials offer an enticing incentive to Wheeling apartment renters looking to save. However, it's important to ask about any stipulations to the move-in specials. A free... Read Guide >
1 of 20
Verified
7 Units Available
2 Bedrooms
$1,810
1000 sqft
3 Bedrooms
$2,045
1170 sqft
Experience our spacious one-, two- or three-bedroom apartment homes, filled with both functional and fashionable features like a gourmet kitchen with granite countertops and energy-efficient appliances. Unwind each day at Lake+House on your balcony or patio. Unmatched Amenities Take an evening stroll around the eight-acre lake, or even try your hand at catching a fish or two! Discover amenities designed with you and your family in mind, like our fitness center, outdoor fire pit and three swimming pools.
Read More...
Limited Time
Win a year of free rent!
Enter for a chance to win by February 28, 2023 | Learn more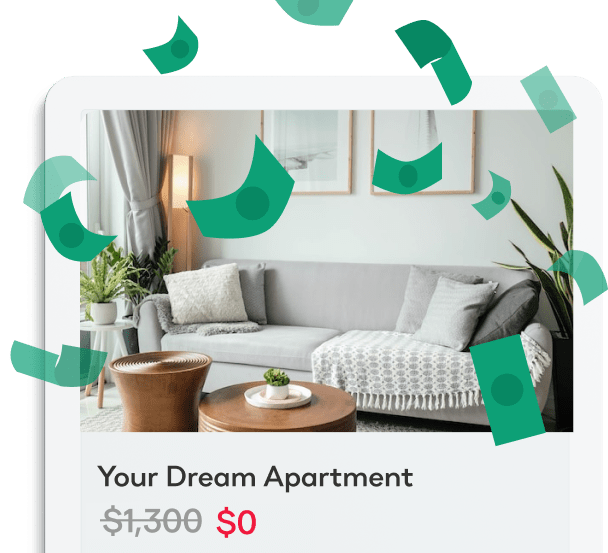 Get started by taking our personalized quiz
Results within
1 mile of
Wheeling
1 of 15
Verified
17 Units Available
2 Bedrooms
$1,603
1094 sqft
Briarwood Terrace will provide you with an escape from it all, yet a location that's convenient to everything! Briarwood Terrace Apartments offers upgraded 1, 2, and 3 bedroom apartment homes in Prospect Heights, IL, a Cook County town located next to Wheeling, Arlington Heights, Palatine, Mt. Prospect, Glenview and Northbrook. Briarwood Terrace Apartments also has apartment homes with dishwashers, large floorplans, great closet space, gas-burning stoves, and sound-resistant concrete buildings. We have an outdoor swimming pool, fitness center, tennis courts, and a basketball court, along with 24-hour on-call maintenance and professional management. Our property is professionally landscaped and you will enjoy the clean, well maintainted atmosphere of our apartment community on a daily basis.
Read More...
Results within
5 miles of
Wheeling
1 of 9
Verified
57 Units Available
2 Bedrooms
$2,680
1162 sqft
Once a destination for short Chicago getaways, Welkin is now a destination for everyday living. A relaxed lifestyle honors its heritage, while tasteful touches meet today's modern demands. All in a convenient location within the neighborhood, just steps from Chicagoland via train. Welkin brings a fresh luxury rental experience to Des Plaines offering studio, 1 & 2 bedroom apartment homes.
Read More...
1 of 62
Verified
10 Units Available
2 Bedrooms
$2,532
1259 sqft
The Monarch is the new standard in upscale living, featuring a sophisticated and unique community that offers the opportunity for upscale living in Des Plaines, IL. You're sure to feel right at home in one of our gorgeous apartments, each of which comes with the amenities that today's residents have come to expect from an exclusive contemporary residence. Each of our apartments offers a feel that is both modern and timeless, providing our residents with the best of luxury living in a comfortable and intimate setting.Let's hear it for staying in. Sunny afternoons by the pool. Making new friends around the grill. Cocktails and memorable moments in the lounge. Hey, sometimes going nowhere is the best time of all.Nothing helps you to imagine the possibilities for a new apartment home quite like photography. Take a look at photo collections that capture the unique & beautiful spaces in our community.Contact us to schedule your tour today!
Read More...
1 of 38
Verified
30 Units Available
2 Bedrooms
$2,940
1120 sqft
NOW LEASING At The Residences at Payton Place, we're redefining garden-style living. We're creating a space where everyday comfort meets exquisite design. Where connection and sophistication effortlessly coexist. And individuality blends harmoniously with community. We're creating a space that's rooted in originality, Where you can stay grounded, feel at ease, and create meaningful memories. We invite you to join us at Payton Place, where you'll instantly feel at home. You'll find your grove. You'll forge your path. You'll start anew. Because at Payton Place, we're creating more than just spaces for dwelling, We're creating an elevated way of living from the ground up. And we can't wait for you to call us home.
Read More...
1 of 28
Verified
30 Units Available
2 Bedrooms
$2,870
1197 sqft
3 Bedrooms
$3,555
1800 sqft
Welcome to your new home at The Oaks Of Vernon Hills in Vernon Hills near North Park. The 1, 2 & 3 bedroom residences offer you the best of city living near Buffalo Grove with all the modern comforts and conveniences you expect. Tailored to meet your needs, The Oaks Of Vernon Hills boasts upscale in-home features and a plentiful list of thoughtful community amenities. It's all waiting for you here – call for a personalized tour today.
Read More...
Results within
10 miles of
Wheeling
1 of 34
Verified
21 Units Available
2 Bedrooms
$2,295
1130 sqft
Approximately 30 miles from downtown Chicago, these luxury homes boast community extras such as fire pits, BBQ grills, and a heated pool. Pet friendly, with nearby trails for Fido.
Read More...
1 of 21
Verified
3 Units Available
Love where you live, and come home to The Glen View . We offer newly renovated apartments in your choice of both high rise and low rise living. Our spacious floor plans feature high-end white marble tile floors, new stainless steel appliances, pedestal sinks, and quartz countertops alongside upscale cabinetry with a rich espresso finish. Enjoy all of our amenities including those offered by our advanced laundry facilities and on-site social room, 24 hour fitness center and indoor heated pool.
Read More...
1 of 19
Verified
11 Units Available
2 Bedrooms
$1,783
1075 sqft
3 Bedrooms
$2,359
1400 sqft
Live Smart! Have Everything! International Village Apartments offers expansive apartment homes featuring redesigned kitchens and baths, new five foot windows in every room, resort style clubhouse with full time social director, and an attentive and caring management team. Along with beautifully appointed apartments, Having Everything entitles you to a fully appointed fitness center, indoor and outdoor pools, tennis courts, sandpit volleyball, game room with pool tables, ping pong, a dance studio with free fitness classes, and a full calendar of monthly social activities. International Village enjoys a premiere location with easy access to major expressways and public transportation, and just minutes from Schaumburgs entertainment district and the upscale Woodfield Mall. Come visit us and to see first-hand all the benefits of living smart.we look forward to meeting you!
Read More...
1 of 39
Verified
63 Units Available
2 Bedrooms
$2,229
1010 sqft
An upscale community with green initiatives and modern design features. Here you'll enjoy a variety of exceptional amenities and attentive service as well as the convenient location with easy access to downtown Chicago. We Are Currently Renovating!
Read More...
1 of 81
Verified
7 Units Available
2 Bedrooms
$3,219
1199 sqft
The Fynn is situated within the heart of the Elmhurst City Centre, offering a taste of downtown life in an upscale, commuter-friendly suburb. The community will include a host of lifestyle-enhancing amenities, including a sky deck terrace that overlooks downtown Elmhurst and the Chicago skyline. Comfortable interiors will feature expansive windows, wood-style flooring, stainless-steel appliances, quartz countertops and so much more.
Read More...
Find More Rentals By
Find More Rentals in Nearby
City Guide for Wheeling, IL
Looking to hit the big time? Fame may come naturally to residents of Wheeling, Illinois. Just outside of Chicago, this town is the birth place of a few show biz types, such as John Francis Daley (Bones, Freaks and Geeks).
See more
What to keep in mind when looking for apartments with move-in specials in Wheeling, IL
Move-in specials offer an enticing incentive to Wheeling apartment renters looking to save. However, it's important to ask about any stipulations to the move-in specials. A free month's rent may only apply to specific apartment floors or basic amenities instead of the apartment you really want.
Other move-in specials might include a lowered or no security deposit option. Keep in mind the lack of security deposit means you are responsible for damage when moving out.
No application fees are also popular move-in specials, which will immediately put more money back in your pocket.
Wheeling apartments are more likely to offer move-in specials during an off-season like winter when fewer people are moving. You may be able to negotiate your own special like free parking for a year in the paid garage.