How to Find a Short-Term Rental Apartment
Moving and looking for a short-term apartment? Learn about the pros and cons of short-term leases and how to find them.
Whether or not a short-term rental is right for you will depend on your circumstances. If you need a temporary home and have the budget to cover the higher price of a short-term rental, then you're already past the biggest hurdles.
In this guide, we'll explain everything you need to know about short-term apartments, including the pros and cons of short-term rentals and how to find short-term rentals near you. Let's dive in!
What are Short-Term Rentals?
A short-term rental is an apartment that has a lease that's shorter than the typical 12-month lease. Generally, short-term rentals are intended as a stop-gap for renters who prefer not to commit to a long-term lease.
Common lease lengths for short-term rentals are three or six months. However, there are even shorter lease terms, like month-to-month apartments.
Although long-term lease agreements allow for more stability, many renters are looking for more flexible accommodations. However, flexibility comes at a price.
Short-term leases are typically more expensive than a 12-month lease. Think about it — a landlord would likely prefer 12 months of consistent rent payments versus just three months.
Pros and Cons of Short-Term Rentals
Short-term rentals certainly have their advantages. However, it's important to have a full picture of what they can offer you before making a final decision.
Pros of Short-Term Rentals
The pros of short-term rentals include added flexibility, the ability to safely explore a new area, and the ability to rent a full-furnished apartment.
Keep reading for an in-depth look at the benefits of short-term rentals.
Added Flexibility: Short-term lease agreements free renters from the commitment of a year-long lease.
Explore a New Area: If you're moving to a new state and want to get to know the area before making a long-term commitment to a home, a short-term rental is a great option. It'll also give you a great opportunity to search for jobs in the area and attend interviews in-person.
Furnished Apartments: Short-term apartments often come furnished. This will save you the hassle of moving furniture when you move in and when your lease term is up.
The pros of short-term rentals can outweigh the cons for many people because of the added flexibility and overall ease that comes with these types of apartments. However, there are important cons to consider beofre making a final decision.
Cons of Short-Term Rentals
The disadvantages of short-term rentals include cost, rarity, and the fact that they are so transitory.
More Expensive: Short-term rentals will almost always have more expensive monthly rent than a 12-month lease. This is because landlords have to offset the loss of 12 full months of rent and the time it takes to find another renter if you end your lease.
Harder to Find: Short-term leases are hard to find because they aren't as lucrative as long-term rentals and generally cause landlords more hassle. Set aside plenty of time to find a short-term rental _before _making your move..
Moving More Often: Shorter leases means moving more often. Moving costs can add up quickly, and moving is generally a stressful experience. Not to mention, you'll have to apartment hunt all over again.
Can Negatively Impact Credit: If you rent multiple short-term rentals in a short period, each hard pull on your credit can negatively impact your credit score.
The disadvantages of short-term rentals make them less appealing to renters looking for stability and lower monthly rent. But if you have the time to search and the budget to support your move, this could be the option for you.
How to Find Short-Term Rentals Near Me?
You can find short-term rentals near you by calling up local leasing offices, but it's more efficient to start your search online.
Again, using Apartment List to find short-term rentals near you is simple. We make it easy for you to find your dream apartment, regardless of your needs.
When you're setting up your Apartment List renter profile, you have the option to add the duration of a lease you're looking for. You can also add the location you're interested in moving to.
You'll then be able to search for apartments based on the lease length and city that's right for you!
Final Thoughts
A lot can happen in a year. There can be so many changes that it can be difficult to predict the changes you'll experience in just 12 months. That said, committing to a standard long-term lease isn't always the best option.
A short-term lease can offer the flexible living situation that you're looking for. Just be sure that your budget can handle the cost of a short-term rental. Prepare for your search and make sure you have a good case to plead to your prospective landlord.
To get started on your short-term rental search, just take our quiz!
Share this Article
DAVINA WARD
Davina Ward is a contributing author at Apartment List and freelance writer specializing in real estate and digital marketing. She received her B.
Read More
Limited Time
Win a year of free rent!
Enter for a chance to win by February 28, 2023 | Learn more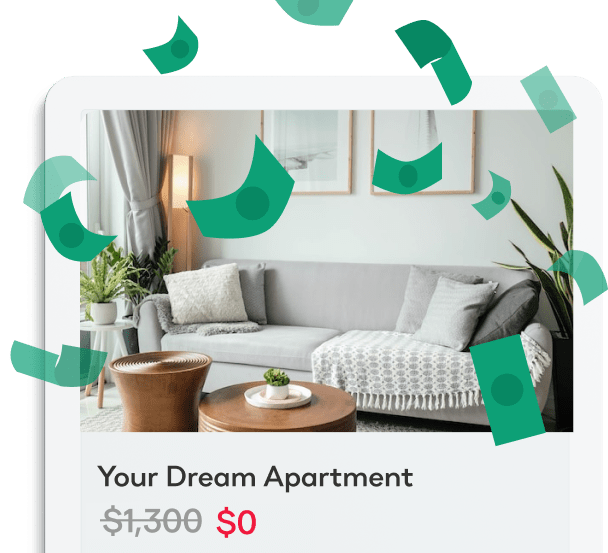 Get started by taking our personalized quiz
Subscribe to our Newsletter
Stay up to date on the latest apartment hunting tips.
Next Up
25+ Questions to Ask When Renting an Apartment
First Apartment Checklist: Essentials for your New Apartment
Studio vs. 1 Bedroom Apartments: Which to Choose?