Cost of Living in Alaska, 2023
Are you among the brave souls looking to conquer The Final Frontier? If so, continue reading to learn about the cost of living in Alaska before making your move!
Are you among the brave souls who wish to conquer The Final Frontier? The state of Alaska certainly has enough incentives to encourage any prospective renter to put down roots, just south of the Arctic Circle, where most large cities in Alaska can be found.
If you fancy yourself a lover of the outdoors, are brave enough to handle below-freezing winters, and adore the idea of seeing the Northern Lights in person, then there's no better place for you than Alaska.
Alaska Cost of Living
That said, there are plenty of reasons why Alaska might not be the right move for you. The high cost of living is chiefly among them.
If you've fallen in love with Alaska's charming appeal, then it's crucial to understand what to expect financially. This guide will break down everything you need to know about the cost of living in Alaska. Let's dive in!
Alaska Housing Costs
As housing costs typically make up the bulk of your living expenses, understanding housing affordability in Alaska, or lack thereof, is crucial to building an accurate budget. Unfortunately, for those seeking a home state with a low cost of living, Alaska does not fit the bill. While the cost of living in Alaska is not exorbitant, it's certainly not among the most affordable places to live.
When talking about the cost of living in Alaska, it's important to understand that Alaska is the least densely populated state in the US. As a result, Anchorage, which is home to almost 40% of the state's population, offers a perfect sample of the state's cost of living as a whole.
Fairbanks and Juneau host a substantially smaller section of the population. However, they're also among the largest cities in the state.
That said, rent prices in Anchorage, Alaska have shown steady increases since the start of 2022. They've grown by 17% in a year-over-year comparison. Currently, the median rent price for a one-bedroom apartment in Anchorage sits at $1,279. The median price for a two-bedroom unit sits at $1,752.
Overall, Alaskan rent prices have increased by 10.7%, while the national rent prices have grown at an average of 4.6%.
Alaska Transportation
While Alaska does offer public transportation options, state residents are typically used to getting around in a personal vehicle. Over 90% of trips taken in Anchorage occur within a personal vehicle.
This explains the high annual transportation expense in the city. MIT's living expense data puts the annual transportation expenses for a single person at $4,938. For a family of four with two children, transportation expenses increase to $13,456 a year.
For those who prefer to forego that expense, Anchorage offers a few options that may help to offset costs. The RideShare Program offers residents a way to get around via a "vanpool," or group of five or more riders who commute and travel at the same time. Prices will vary depending on your commute.
It's also possible to hop on a bus and ride to your destination for the low fare of $2 per single trip, $60 for a monthly pass, or $660 per year via the People Mover system. Whichever way you slice it, $660 is a lot cheaper than the typical annual transportation cost of nearly $5,000.
Alaska Food Costs
Next to housing costs, food costs can be a major expense for Alaskan residents. In fact, the average single adult in Anchorage will spend $3,999 on food annually or $333.25 monthly. For a family of four, the budget line item for food expands to $11,764 yearly or $980.33 a month.
However, the methodology for this data collection assumes that all meals and snacks will be prepared in the home. That means no heading out to enjoy some of the freshest seafood in the world.
As most residents enjoy a meal out at least once in a while, it's important to know what to expect when you visit one of Alaska's many restaurants. Here are the prices that you can expect to pay at a mid-tier restaurant for a three-course meal according to data from Numbeo:
Anchorage: $75
Juneau: $54
Fairbanks: $90
You'll also want to tack on an additional 15% in standard gratuity to these numbers. All in all, it's not exactly cheap to get a restaurant meal in Alaska. If you're looking to save, then simply try your hand at preparing high-quality meals at home. The local affordable supermarket chain Carrs regularly has sales. So, you can dine like royalty without busting your budget.
Alaska Healthcare Costs
The average adult resident of Alaska spends $2,382 on healthcare costs annually. A family of four spends $7,945 in the same period.
Depending on your circumstances, your relationship with healthcare may be as simple as heading in for your yearly physical, though you may require more frequent trips. Regardless, it's crucial to find an affordable health insurance plan that meets your and your family's needs.
Visit the federal Healthcare Marketplace to find an affordable health insurance plan with coverage in your state. You can also take advantage of one of the many public health centers across the state of Alaska to access affordable healthcare near you. These centers typically charge fees on a sliding scale based on family size and income.
If you're moving from out of state, be sure to file a report via the marketplace letting them know that you've moved and will need to transfer your coverage or find a new plan. If not, you may be subject to a lapse in coverage.
Alaska Utilities
Alaska's extreme weather phenomenon isn't exactly a secret. Because some of the state lies within the Arctic Circle, which, as the name suggests, is absolutely freezing, Alaska isn't for those who can't stand a little frost.
That said, you can beat some of the extreme weather by living in a more southern city like Anchorage or Juneau. However, if you choose to live in Fairbanks, which lies in the interior of Alaska, expect more extreme weather.
For most Alaskan residents, the bulk of their utility bills stem from the necessary cost of heating their homes in the winter months. While the national average utility bill is just $240, the average utility bill in Anchorage is a high $293.80, which accounts for basic electricity, fuel, gas, and water.
Garbage collection costs differ based on municipality. However, the 2022 monthly rate for the average 32-gallon cart was $15.25 or just $183 a year.
Fortunately, as an Alaskan renter, it's likely that your utility costs will be bundled in with the cost of your rent. Here's a breakdown of the percentages of Alaska apartment units with utilities included in the contract rent:
Heat: 74.1%
Light: 19.8%
Hot Water: 71.4%
Water: 65.5%
Garbage: 86.4%
Sewer: 64.4%
Snow: 79.8%
Overall, light/electricity may be your only non-bundled out-of-pocket utility expense. Because we're living in the 21st century, you'll likely need some sort of internet connection and cell phone service, which can tack on another $121 a month to your estimated utility bill.
Fitness and Entertainment
Whether you're a rugged mountain lover or a fitness fanatic looking to break a sweat in the Alaskan winter, you've got options. Alaska is brimming with fitness and entertainment opportunities for residents to take advantage of at any time. Here are a few fitness and entertainment options in Alaska and their costs.
Fitness Costs
Staying fit in Alaska can be as simple as heading out your front door. With so much incredible natural scenery and some parts of the year boasting well over 18 hours of sunlight, whether you walk, run, bike, or skate, the Alaskan scenery will provide the perfect backdrop to your workout.
However, if you prefer to workout in a group setting or gym, memberships can be a bit costly. Here's a cost breakdown of an annual gym membership in Alaska:
Juneau: $90
Anchorage: $74.75
Fairbanks:$73.75
Visit Denali State Park
One of the perks of living in a state that boasts such a robust outdoors scene, is, well, the outdoor scene. You won't find tons of cities and concrete skyscrapers dominating the landscape in Alaska, though you will find tons of forests, mountains, and bodies of water to explore. One of the most popular outdoor spots in Alaska is Denali State Park.
You can view the Alaska and Denali Ranges in all their natural glory from pretty much any vantage point in the state park.
If you fancy yourself more of an explorer, take a trail. You'll likely see some of the park's wildlife. That includes birds, flying squirrels, wolves, caribou, and more.
Keep in mind that bears, wolves, and other predatory animals are extremely dangerous. You should not approach wildlife under any circumstances.
This free state park attracts all sorts of adventurers. You'll see fishermen, backpackers, rock climbers, kayakers, and more.
Head to a Museum
A little-known fact about Alaska is that it boasts quite an impressive collection of museums dedicated to science, art, North America, and more. These museums are dotted within the major Alaskan cities, so you and your family can take a trip to your city's local museum.
Luckily, museums are a low-cost, family-friendly attraction. Here's a breakdown of the costs of museum tickets in Alaska.
Alaska State Museum (Juneau): $9
Museum of the North (University of Alaska in Fairbanks): $16
Alaska Museum of Science and Nature (Anchorage): $8
Other Expenses to Consider in Alaska
When you're creating your Alaskan budget, it's important to be as detailed as possible. Though there are common expenses that you'll have to account for wherever you move, all locations have their own unique expenses. They can be difficult to predict without having lived there for some time.
Luckily, we've got you covered. Here are some of the hidden costs of living in Alaska.
Taxes: Alaska does not have state income tax or sales tax, so residents save a significant portion of their paycheck by living in the state. However, some cities & municipalities may levy their own taxes, which can amount to 7.5%.
Gas Prices: Currently, gas in Alaska is $3.58 per gallon, which is significantly higher than the national average of $3.12 per gallon.
Permanent Fund Dividend (PFD): Though not an expense, it's certainly an important financial detail. This dividend payment to all eligible Alaskan residents who have lived in the state for one calendar year, resulted in a $3,284 in 2022, which is among the largest payout in history.
What Salary Do I Need to Live in Alaska?
According to the U.S. Census Bureau, the median income in Alaska is $80,287. However, if you make less than that amount annually, you may still be able to live comfortably in Alaska. Generally, it's essential to take home at least three times the cost of your monthly rent to live comfortably.
As the median rent cost of a one-bedroom apartment in Anchorage is $1,279, the average resident would need to take home around $4,263 before taxes to live comfortably in Alaska. That translates to $51,160 yearly.
Final Thoughts
Living in Alaska is definitely a unique experience in its own right. However, as long as you've got the right budget to live comfortably in the state, there's no reason that you can't make a successful move to Alaska. Take our quiz to get started on your journey to finding your Alaska dream apartment!
FAQs: What to Know About the Cost of Living in Alaska in 2023
How expensive is an apartment in Alaska?
A 1 bedroom apartment in Anchorage costs $1,279. A 2 bedroom apartment in Anchorage costs $1,752.
What is the cheapest rent in Alaska?
A one bedroom apartment is the cheapest rent in Alaska at $1,279.
How expensive is it to live in Alaska?
Living in Alaska is on the rise. In Anchorage, Alaska, rent averages $1,279 for a 1 bedroom apartment. Transportation costs in Anchorage amount to $4,938 a year. Food costs $3,999 1 a year on average for a single resident of Anchorage.
How far is Alaska from California?
Alaska is 3,178 miles away from California It takes 56 hours to get to California from Alaska by car, 275 hours by bike, and 730 hours by foot.
What is the population of Alaska?
According to the U.S. Census Bureau, the population of Alaska is 732,673. It is the largest state in the country by area, bigger than the next three states combined, including Texas, California, and Montana.
Share this Article
DAVINA WARD
Davina Ward is a contributing author at Apartment List and freelance writer specializing in real estate and digital marketing. She received her B.
Read More
Limited Time
Win a year of free rent!
Enter for a chance to win by February 28, 2023 | Learn more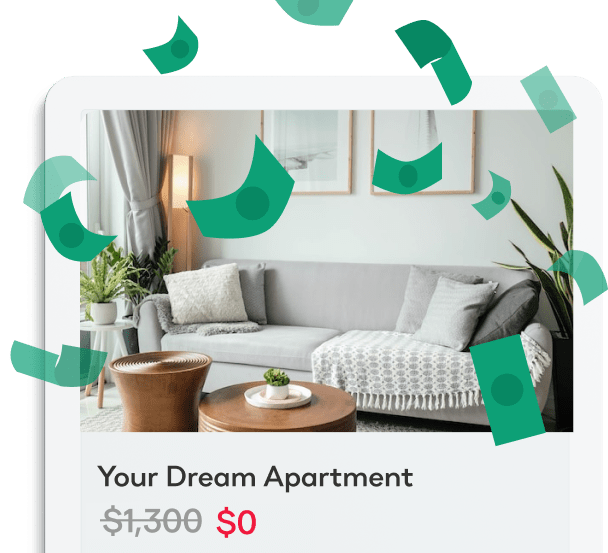 Get started by taking our personalized quiz
Subscribe to our Newsletter
Stay up to date on the latest apartment hunting tips.
Next Up
How to Move to Another State: Guide + Checklist
Moving Out of State During a Pandemic: What You Need to Know
Studio vs. 1 Bedroom Apartments: Which to Choose?